Material Handling
Because hot-dip galvanizing is a total immersion process, material is moved throughout the facility by overhead cranes and lowered into surface preparation and galvanizing baths. Galvanizers use a number of chains, wire, and racking fixtures to effectively hang the steel which are then attached to hoists and cranes to move the steel through the cleaning solutions and molten zinc.
To ensure proper handling, lifting points should be incorporated into the fabrication design. The lifting points can be temporary for processing or permanent in the design of the steel. Large assemblies are usually supported by chain slings or lifting fixtures, while special jigs and racks are often used to simultaneously galvanize large numbers of similar items. Perforated baskets are used to galvanize smaller articles such as fasteners and anchors.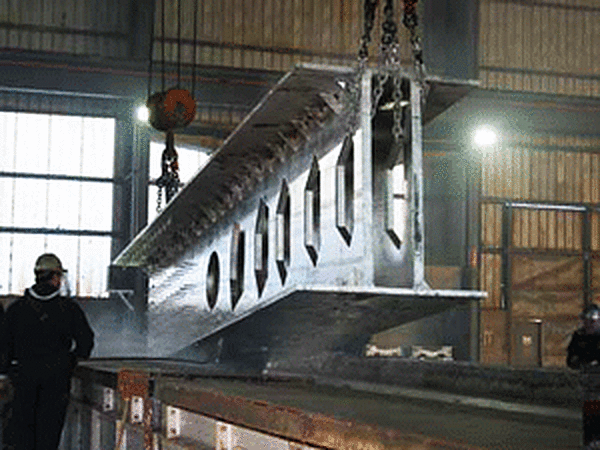 Providing lifting points is also important if aesthetics and coating finish are a high priority. Chain, wire and other holding devices used to support materials being galvanized can leave markings on the galvanized item, if special lifting supports or holes are not provided. These markings are usually completely galvanized; and thus not a reason for rejection of the coating. Uncoated areas due to material handling, removal of temporary lifting points, or chain marks can be touched up for aesthetic reasons, if desired.
In addition to lifting points, weight of the fabrication should also be considered. Because of the set up of the handling equipment and maximum load capacities, best practice is to consult the galvanizer if you plan to galvanize extremely heavy fabrications to ensure effective and efficient handling.

With respect to providing lifting points, consider the following:
Where possible, lifting points (see illustration) should be provided at the quarter points for symmetrical parts; this avoids chain- or wire-marks on the sides of the parts
Holes may be included in the design to allow the galvanizer to hang materials from overhead fixtures