Building & Architecture
Structural steel has been the material of choice in the building market for decades because of the numerous benefits it provides. While steel successfully and efficiently works when enclosed in the building envelope (framing), the portions of the steel exposed to the atmosphere need corrosion protection. Whether canopies, façade elements, handrail, architecturally exposed structural steel (AESS), or other exterior elements, hot-dip galvanizing is specified for optimum corrosion protection and enhanced aesthetic appeal.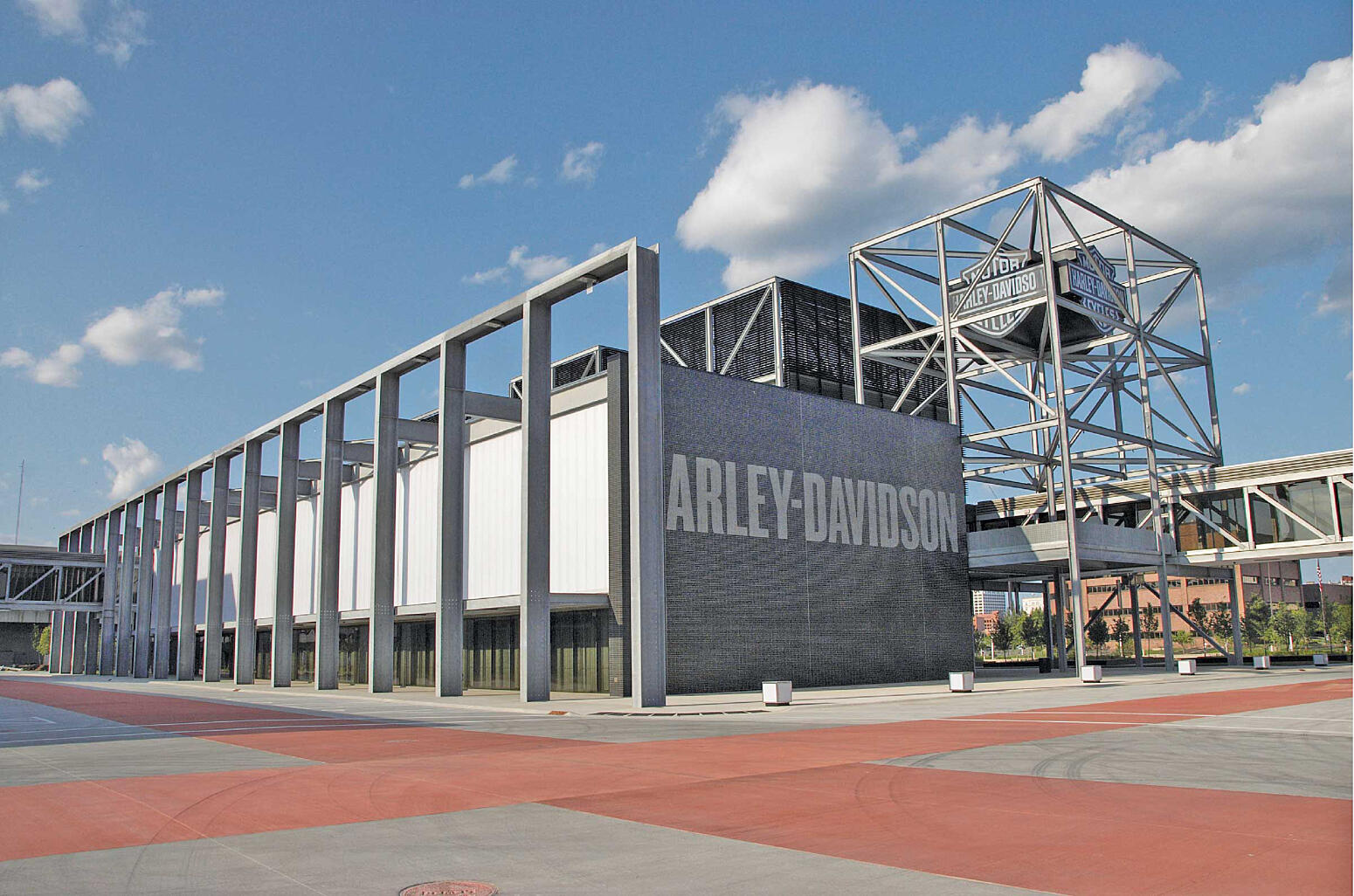 The fact steel corrodes when exposed to the atmosphere should not be a deterrent to specifying the material; because, all construction materials (concrete, wood, etc.) do in fact deteriorate when exposed to the environment. However, steel is more upfront about its corrosion, the rust shows where weaknesses are forming allowing maintenance crews to focus their attention for repairs. Other materials may hide the issues until the problem is magnified. The best way to conquer corrosion is to provide steel with a protective coating, which has more than 150 years of proven, real world performance - hot-dip galvanizing.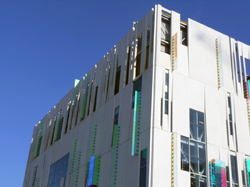 Buildings constructed with steel framing and galvanized steel elements enjoy a number of benefits other materials cannot provide. Here are just a few benefits of building with steel, outlined by the American Institute of Steel Construction (AISC) :
High Strength: Steel has a high strength in comparison to other materials, and more importantly a high strength-to-weight ratio. Lighter, stronger structural steel requires less extensive and costly foundations in comparison to concrete and other heavy materials. AISC estimates it takes approximately one ton of steel to do the same work as eight tons of concrete.
Design Freedom: Due to the lighter, stronger members which mean less supports, steel designs are often more open providing endless design options. Steel is also easily curved, arched, and manipulated for architectural visual interest. Finally, lighter members allow ease in expansion later, as you can easily weld and bolt on new material often in the same footprint.
Speed of Construction: Steel manufacturing and fabricating as well as galvanizing are factory-controlled which means outside factors have little impact on production. And, even if production time is slightly longer, steel members are rapidly erected in any weather conditions once on the jobsite.
Lower Project Costs: The cost of steel has remained relatively stable and increased at a slower pace than other construction materials over the last 30 years. Comparative studies indicate steel is often 5-7% less expensive than concrete in structures such as parking garages, and may be even more significant in projects, such as bridges, where case studies have shown cost savings closer to 30%. Hot-dip galvanizing only enhances the overall economic efficiency of steel by eliminating costly maintenance throughout the life of the project.
Aesthetics: The lightness of steel members, and the ability to bend, curve, and roll the pieces as a visual element is highly desirable. The structural steel addressing functional demands can also become part of the exposed beauty and uniqueness of a project.
Efficient: Again, the ability to modify after design is complete or even after the structure is erected is fairly simple and commonly accomplished within the same footprint. The strength-to-weight ratio means less material is needed overall, and the material is less bulky where used, saving resources and enhancing the user experience and visual appeal.
Sustainable: Steel is the most recycled material in the world, with nearly 90% of all structural steel coming from recycled sources and the reclamation rate (amount of steel available for recycling that is in fact recycled) is 100%. (Similarly, 30% of all zinc comes from recycled sources, and 80% is reclaimed.) Furthermore, in the past 20 years, structural steel has reduced its carbon footprint nearly 50%, and the energy used in the production of structural steel has decreased 30%, and the conservation of water used in the closed-loop recycling has improved. Coupling the advances of structural steel with the longevity of hot-dip galvanizing enhances the sustainability even more.
Readily Available: Steel Service Centers, mills, fabricators, and galvanizers are found throughout North America and are equipped to keep up with demand. Service Centers typically stock three months of inventory ensuring material can be delivered to a fabricator within days of the order being placed. Furthermore, galvanizers typically provide a 3-5 day turnaround on material and can process steel and deliver it to the jobsite on the same day, if necessary.
The AGA Project Gallery has a number of great examples of hot-dip galvanizing in building structures, such as the El Andaluz Commercial Offices and Residences in Santa Barbara, California. The following list provides insight into some of the numerous applications for hot-dip galvanizing in building structures.
| | | | |
| --- | --- | --- | --- |
| Anchor Bolts | Curb Angles | HVAC Supports | Railings |
| Anchor Rods | Drain Pipes | Joists | Reinforcing Steel |
| Anchoring Clips | Drains | Ladders | Relieving Angles |
| Angles | Embedments | Leveling Plates | Roof Trusses |
| Architectural Panels | Equipment Screens | Light Fixtures | Scuppers |
| Atrium Supports | Exterior & Stair Channel & Fasteners | Light Poles | Security Gates |
| Attachment Devices | Fascia Support Steel | Lightning Rods | Security Light Poles |
| Balcony Railing | Fasteners | Lintels | Supports |
| Beams | Fence / Gates | Louvers | Stadium Seating |
| Benches | Fire Escapes | Manhole covers | Stair Stringers |
| Bicycle Racks | Flag Poles | Mesh & Embedded Items | Sun Screens |
| Bleacher Supports | Foot Bridges | Metal Sculptures | Trash Containers |
| Brick Ledges | Fountain Accessories | Ornamental Steel | Tree Grates |
| Brick Ties | Garage Support Steel | Pipe Bollards | Tree Guards |
| Building System Frames | Gates | Pipe Hangers | Trellises |
| Canopy Supports | Girts | Pipe Stanchions | Utility Covers |
| Catwalks | Grating | Playground Equipment | Window Wall Supports |
| Channels | Guiderail | Post & Chain Fence | Window Washing Rails |
| Columns | Handicap Railings | Precast Hardware | |
| Crash Barriers | Hatches | Purlins | |
Building and Architecture Case Study
Niagara Parks Butterfly Conservatory, Niagara Falls, ON- Galvanized in 1997
The galvanizer worked with 70 tons (64 tonnes) of precisely fabricated support structure steel. The galvanized steel was uniquely coated with primer and painted with a moisture-cured urethane coating, extending the life of the structure. Holding 2,000 butterflies of over 200 species, the $15 million Butterfly Conservatory in Ontario is the focal point of a facility dedicated to the rearing of butterflies and the education and entertainment of the public. Over half a million people have enjoyed the tropical butterfly-haven since it's opening in mid-1997. Thanks to hot-dip galvanizing's low maintenance and long-lasting corrosion prevention, the Conservatory will be preserved for generations to come.