Resources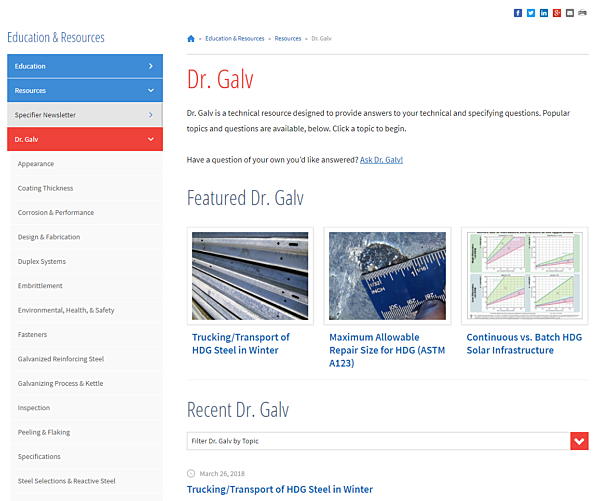 The AGA offers a multitude of technical resources available to galvanizers, specifiers, and anyone who may need more information on galvanizing. This section contains a number of tools: Dr Galv, KnowledgeBase, Project Gallery, Life-Cycle Cost Calculator, and the specifier eNewsletter Galvanizing Insights.
Dr. Galv is a technical FAQ section that provides in-depth articles on various topics related to galvanizing. Similar to Dr. Galvs, the KnowledgeBase provides shorter answers to more common questions and provides additional online resources and an opportunity for interactivity.

The AGA Project Gallery is an online showcase of galvanized projects from all over the world, as well as the winners of the AGA's annual Excellence in Hot-Dip Galvanizing Awards. The Life-Cycle Cost Calculator is an online tool that allows you to calculate the cost of galvanized steel compared to more than 30 other coating systems. Galvanizing Insights, the AGA's free quarterly e-newsletter, is designed to help specifiers, engineers, architects, fabricators, and end-users better understand, specify, and utilize hot-dip galvanized steel.

In addition to these resources, the AGA partners with the American Institute of Steel Construction (AISC) for their annual SteelDay event. Each year on SteelDay, member galvanizers throughout the country open their doors to the public for events ranging from simple lunches to grand tours of their facilities and other fun filled activities. TechForum is the AGA's annual technical conference offering a variety of presentations organized around the technological advancements of galvanizing.