Artistic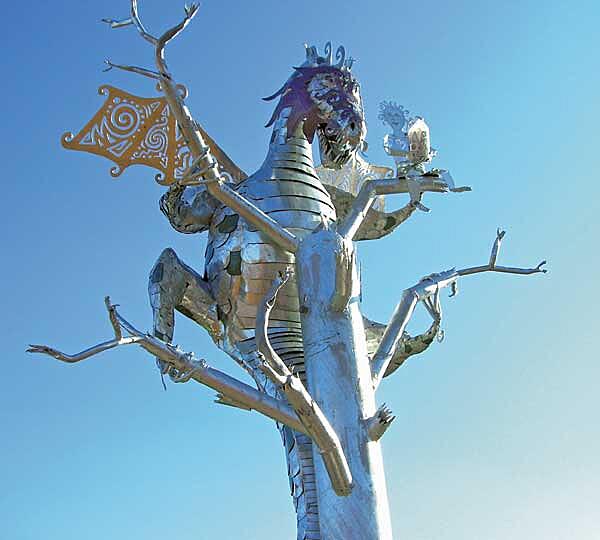 Hot-dip galvanizing is most often thought of as a coating specified for corrosion protection. However, the natural, metallic finish of the coating can also be a visual enhancement. Numerous artists and designers specify hot-dip galvanizing to protect their creations from the elements.
Aesthetics are important to nearly every construction project, but especially on artistic sculptures, façades, and other visual elements. More and more designers are turning to hot-dip galvanized steel for their projects because of the consistency of the attractive, natural gray finish. As galvanized steel weathers and the zinc patina forms, the metallic coating evolves to a uniform matte gray; complimenting its surroundings. And unlike other coatings, the uniform appearance remains consistent, preserving the artist's vision for decades.
The beauty of any artistic piece is in the eye of the beholder, but most agree a deteriorating, rusty piece of steel is not "art". Utilizing hot-dip galvanizing on steel design elements ensures they are as beautiful as the day they were installed generations in the future. And if the natural, matte gray finish does not suit the project, artists can still enjoy the benefits of hot-dip galvanizing by employing a duplex system (painting or powder coating over hot-dip galvanized steel.)
Whether an intriguing creature, like the one at Devil's Lake in Lincoln City, Oregon, an abstract, intertwined sculpture such as the Praying Mantis Sculpture for the Burning Man Festival, or a flowing figure similar to The Muse in Wellington, Florida; there are many examples of the artistry of galvanized steel . The possibilities are virtually endless; limited only by the imagination of the designer.
Artistic Case Study
The Muse, Manchester Vermont. Galvanized in 2005.
The Muse was created by Jack Howard-Potter and is part of the Cultural Trust of Palm Beach's Sculpture Biennale at the Cultural Art Campus. Now located in the Southern Vermont Arts Center, the entire 1,615-pound sculpture was hot-dip galvanized and then powder coated with a silver finish to extend its service life. The duplex coating will provide the sculpture a long life free from corrosion and maintenance in the harsh coastal environment.