Hot-Dip Galvanized Fasteners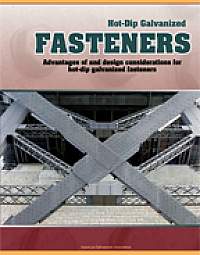 Perhaps the most critical choice made in the design of fabrication connections is how to protect the fasteners from corrosion. The protection of fasteners is imperative, because if the fasteners corrode and fail, the integrity of the structure is at risk. Hot-dip galvanizing (HDG) delivers long-term, maintenance-free corrosion protection of fasteners, thus eliminating the concern. Whether used in atmospheric, concrete, soil, or water (fresh or salt) applications, hot-dip galvanized steel provides maximum time to first maintenance. Additionally, because of galvanizings maintenance-free quality, there will be no difficult field repairs nor labor and material costs associated with those repairs.
So, why hot-dip galvanize? The answer is in the many benefits hot-dip galvanized fasteners provide. The following information will explain how and why hot-dip galvanized fasteners provide superior protection for connections, as well as some design considerations when using galvanized fasteners.
Revised in 2009, this publication provides detailed information on hot-dip galvanized fasteners including performance, design considerations, and benefits of galvanized fasteners.
Copies of this resource are available for purchase. Architects, engineers, and other specifiers in North America may request a single copy of any publication at no charge, unless otherwise indicated. Multiple copies require a $25.00 (US funds) minimum order, plus shipping and handling. Prepayment is required. (Member galvanizers are not eligible for complimentary printed copies and require a $75.00 minimum order.) Non-member galvanizers must contact the AGA directly at 720-361-4483.