Mobile
AGA Mobile Access
The American Galvanizers Association (AGA) website easily accessed by mobile devices due to its responsive design. Simply visit www.galvanizeit.org on your device browser and use the Menu and Quick Links buttons to navigate the site. The website enhances the user experience with new features, prominently displayed tools, and an improved search function. This mobile access ensures accurate, in-depth information is readily available to specifiers and fabricators at all times. The website also easily directs users to some of the AGA's most valuable marketing and educational resources including the Galvanize It! seminar program, Publications, AGA Project Gallery, Life-Cycle Cost Calculator, and the Galvanizer Locator. These tools help educate members of the specifier community about hot-dip galvanized steel, and ensure they are able to find a provider in their area. All of these resources are prominently displayed in the Quick Links section.
Add a Home Screen Shortcut Icon to your Apple device by opening galvanizeit.org in Safari, clicking the middle button with a square and an up arrow, and then clicking the 'Add to Home Screen' button. On Android devices, this can be done by navigating to the webpage, opening the settings menu, and clicking "Add Shortcut."
AGA Inspection of Galvanized Steel App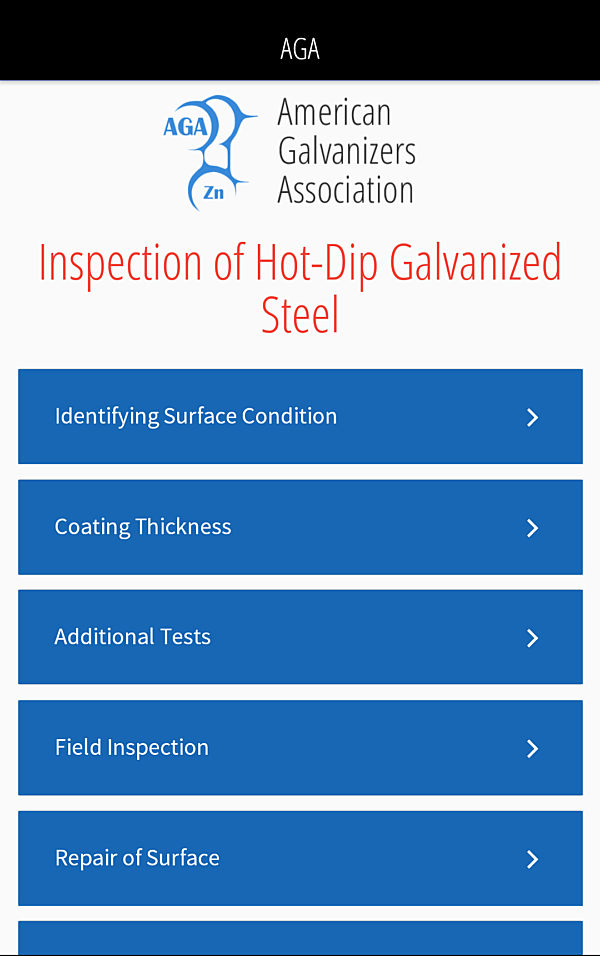 The AGA has created a comprehensive app to aid in the inspection of hot-dip galvanized steel. The app is a visual guide to identifying various surface conditions present after hot-dip galvanizing. Each image in the app is accompanied by text identifying the industry term for the surface appearance and detailing how and why it occurs, and whether or not it is accepted according to the specification. In addition to the visual interpretation of surface conditions, the app also contains critical specification (ASTM, ISO, AASHTO) information to assess compliance with coating thickness requirements as well as how to conduct repairs.
The app is available for free in both the Apple and Google Play stores.
Touch-Up and Repair Video Series
The Touch-Up and Repair of Hot-Dip Galvanized Steel online video series consists of six short videos detail the specifications and methods used to touch-up and repair hot-dip galvanized steel. The videos provide highly beneficial visual aids to those needing assistance with touch-up and repair, whether in the plant or the field. Topics include proper materials to use while performing the process, as well as specifications to follow, and proper application of the repair materials.