Processing & Maintenance Safety Video License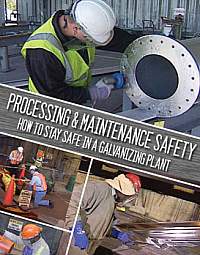 Available only to AGA Members. License includes viewing/streaming access on AGA website.
The AGA's Safety Video was developed specifically to review the hot-dip galvanizing process and present potential hazards to increase awareness and prevent occupational hazards within the hot-dip galvanizing facility. The video is divided into two parts: processing safety and maintenance safety. The processing safety portion aids the viewer in understanding the proper safety techniques to use throughout the hot-dip galvanizing process, such as discussion on the appropriate personal protective equipment and safety procedures. The maintenance safety portion gives an overview of specific safety issues in a hot-dip galvanizing facility. The issues highlighted in this portion of the video are chemical maintenance, confined spaces, lockout/tagout procedures, kettle maintenance, and housekeeping. Approx. 63 minutes.

Upon purchase, you will be able to access/stream via the following members-only links.
Processing Safety Videos
Maintenance Safety Videos
This resource is only available to members of the American Galvanizers Association. Member orders require a $75.00 minimum. Please contact the AGA directly at 720-361-4483 with any questions.