Galvanize Your University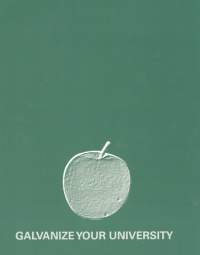 This educational folder reveals the benefits of galvanizing your university. It explains the current corrosion crisis in Universities while providing a detailed solution-hot-dip galvanizing. This publication lists the many opportunities to increase the durability and aesthetics of a campus while lowering costs. Parking structures, campus accessories, architectural buildings, athletic facilities, and outdoor recreational facilities are all mentioned in great detail as great galvanizing opportunities for any University.
This publication is only available to members of the American Galvanizers Association.
Copies of this resource are available for purchase. Architects, engineers, and other specifiers in North America may request a single copy of any publication at no charge, unless otherwise indicated. Multiple copies require a $25.00 (US funds) minimum order, plus shipping and handling. Prepayment is required. (Member galvanizers are not eligible for complimentary printed copies and require a $75.00 minimum order.) Non-member galvanizers must contact the AGA directly at 720-361-4483.