Time to First Maintenance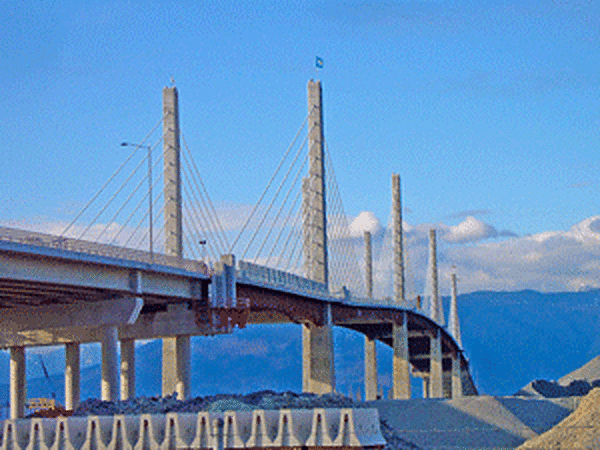 The continual collection of real-world data since the 1920's has shown a substantial improvement in corrosion rates recently due to anti-pollution campaigns. Therefore, the projected times to first maintenance provided by the Zinc Coating Life Predictor (ZCLP) module, and thus, the points plotted on the time to first maintenance (TFM) chart are conservative estimates for the 21st century.
Time to first maintenance (TFM) is defined as 5% rusting of the base steel surface, which means 95% of the surface has some zinc coating remaining, and an initial maintenance is recommended to extend the life of the structure. According to ASTM A123, the governing specification for hot-dip galvanizing, steel ¼-inch thick or greater must have at least 3.9 mils of zinc on the surface, but more often than not, there will be greater than the minimum requirement. Therefore, using the TFM chart, hot-dip galvanized structural steel (>1/4-inch thick) provides 72-73 years of life to first maintenance even in the most corrosive atmosphere, industrial.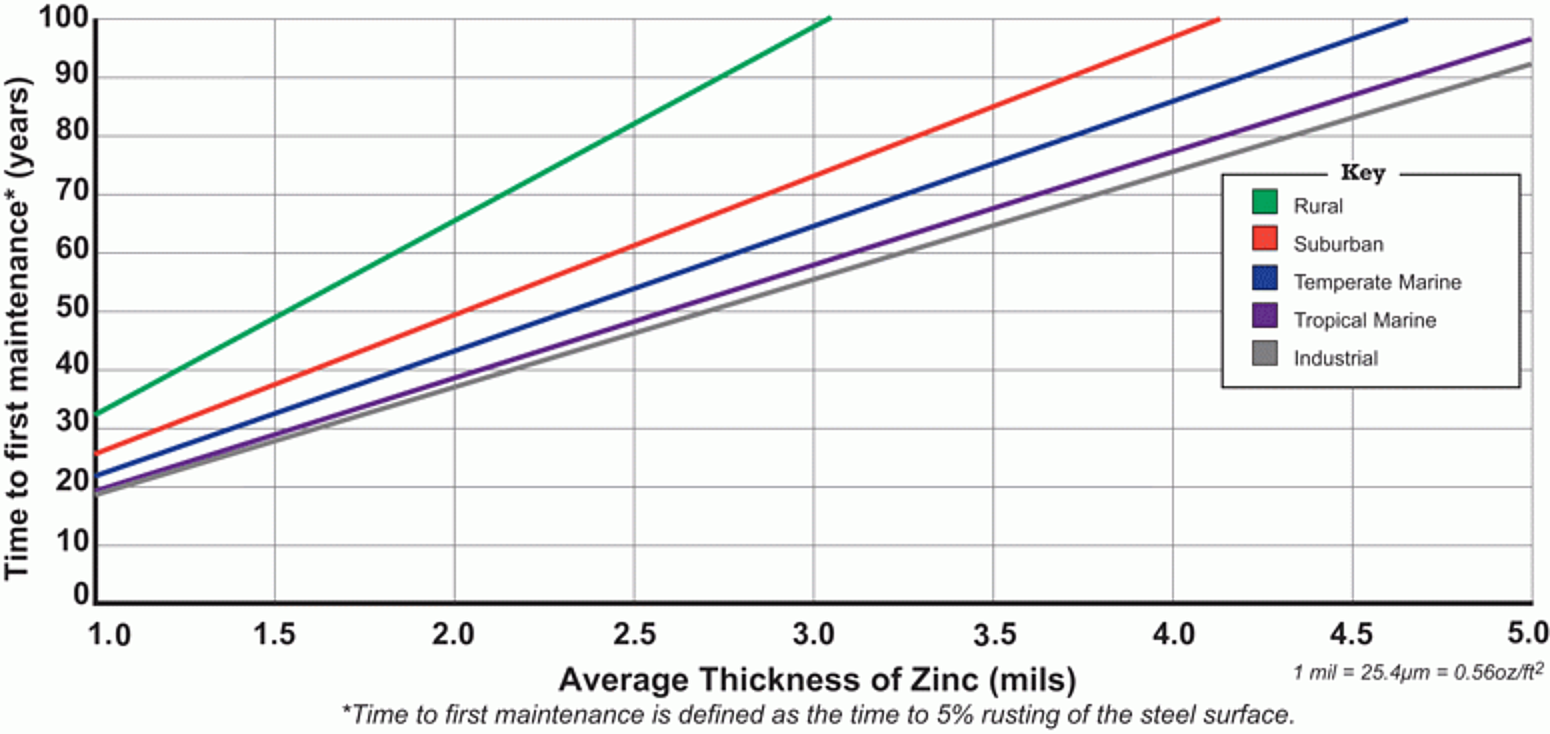 The data points for the TFM chart were collected from the following locations:
| Environment | City |
| --- | --- |
| Rural | Boise, ID; Las Cruces, NM; Fargo, ND; Little Rock, AK; Macon, GA |
| Suburban | Vallejo, CA; Tucson, AZ; Cedar Rapids, IA; Jackson, MS; Harrisburg, PA; Columbia, SC |
| Temperate Marine | Seattle, WA; San Francisco, CA; Milwaukee, WI; Norfolk, VA; Atlantic City, NJ; Boston, MA |
| Tropical Marine | Miami, FL; Corpus Christi, TX; San Diego, CA; Cancun, Mexico; Mazatlan, Mexico |
| Industrial | Pocatello, ID; Los Angeles, CA; Chicago, IL; Dallas, TX; New York, NY; Knoxville, TN |
Time to first maintenance for galvanized steel is linear and directly related to the zinc coating thickness. As stated before, the data from the chart is based on hot-dip galvanized steels actual performance in the field. Do not be confused by manufacturers of other corrosion protection systems who claim their products perform as well as hot-dip galvanizing in accelerated testing, namely salt spray tests. Salt spray tests do not allow zinc to go through the normal wet and dry cycles, which are crucial to the development of the zinc patina (a key component to galvanizing's longevity). Thus, they do not accurately represent the durability of hot-dip galvanized coatings or any zinc coatings, for that matter.