Electrical, Utility & Communication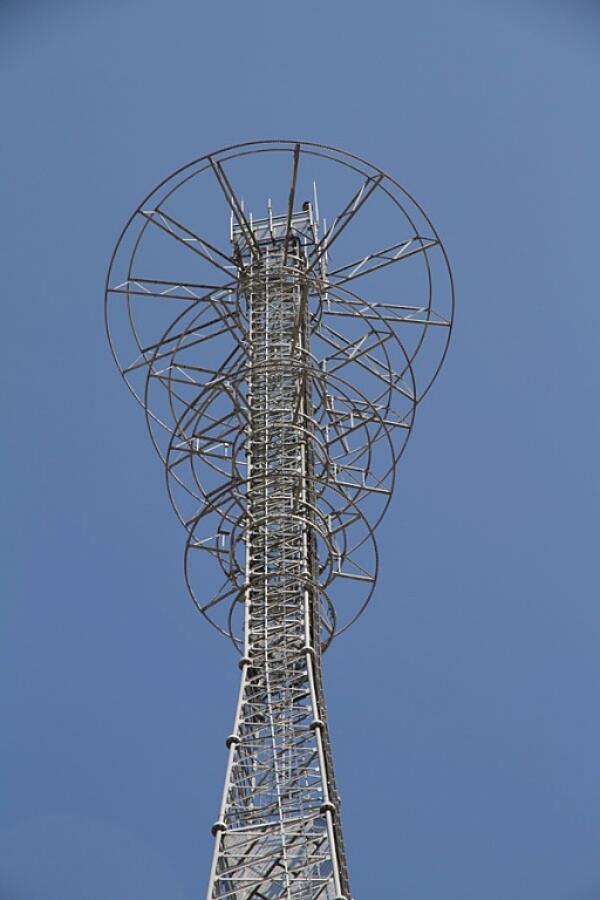 The energy market is on the verge of significant change. For the sake of future generations, it is paramount to address these evolving needs - to secure a generation source that will meet increasing demands and improve the transmission and distribution grids.
Over the next 25 years, North America's energy demand is expected to rise approximately 30 percent. According to corrosion studies, the annual cost of corrosion in the electric utility market is $6.9 billion while approximately $3 billion is being spent on maintaining the systems. With the investment in maintenance falling short of the corrosion costs, the grid continues to degrade year after year. Furthermore, the current transmission grid was not designed to meet even the present demand; and thus, as the demand increases the risk of brownouts and blackouts will increase.
Maintaining and upgrading the power grid is one of the most important investments for future generations, as one blackout, like the one in the Northeast and portions of Canada in 2003, costs billions of dollars in lost productivity and revenue. Upgrades are needed throughout the power grid, as in recent years more generation facilities have been constructed, but without the addition of transmission lines to effectively distribute the new power to the masses. Even with more generation capacity available, without the necessary transmission and distribution lines the current capacity cannot keep up with future power demands.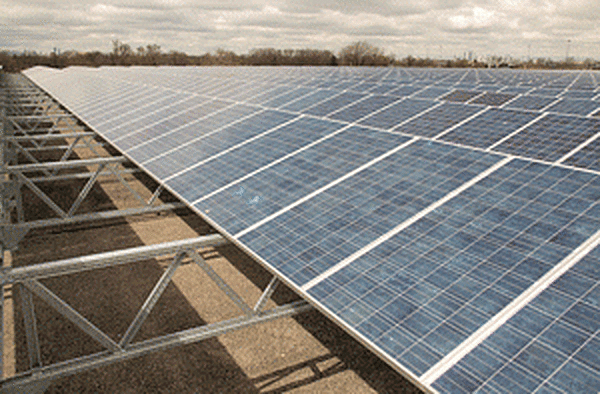 One critical component of upgrading and expanding the power grid is protecting generation, transmission and distribution structures for decades. Estimates show 25-30% of corrosion costs could be eliminated if proper protection methods were employed initially. Whether in traditional (coal, natural gas, nuclear) or renewable (hydro-electric, solar, wind) generation, transmission (substations, lattice towers, cable-stayed, single mast) or distribution poles and cables, hot-dip galvanized steel plays a key role in the past, present, and future power infrastructure.
Even as the industry changes and grows, one critical component remains constant corrosion protection. For more than 75 years, hot-dip galvanized (HDG) steel has played an integral role in the corrosion protection of power generation, from traditional or renewable sources, to the transmission and distribution of power consumers throughout North America. Utilizing HDG steel throughout the power grid ensures longevity and cost-effectiveness of power projects for the next generation.

The list below shows the most commons uses of hot-dip galvanizing in the power industry:
| | | | |
| --- | --- | --- | --- |
| Anchor Bolts | Buildings | Beams | Brick ties |
| Brick Ledges | Columns | Dock Levelers | Equipment Supports |
| Fencing | Flagpole | Bollards | Cranes |
| Electrical Boxes | Handrails | Gates | Girts |
| Faraday Cages | Fish Ladders | Flood Control Gates | Flow Restrictions |
| Fasteners | Guardrail | Guardrail Posts | Gates |
| Gas Turbine Skids | Generator Housings | Generator Support Platforms | Hopper Structures |
| HVAC Supports | Lattice Towers | Light Poles | Light Brackets |
| Ladders | Lintels | Mechanical Screens | Overhead Cranes |
| Penstock | Pipe Bridges | Pipe Supports | Platforms |
| Purlins | Railings | Relieving Angles | Reinforcing Steel |
| Roof Hatches | Sheet Piling | Pole Arms | Railings |
| Structural Steel | Sign Supports | Posts | Bridge |
| Yard Equipment | Steel Stairs | Coal-handling Equipment | Sheet Piling |
| Catwalks | Steel Grating | Steel Stairways | Solar-panel Supports |
| Conveyor Supports | Trench Covers | Transmission Poles | Solar Control Boxes |
| Corner Guards | Truck Scales | Tubular Towers | Tower Ladders |
| Trash Racks & Booms | Truck Lifts | Walkways | Tower Supports |
| Wine Mill Towers | Valve Stands | | |
Electrical, Utility & Communication Case Study
Candelabra Tower- Miami, FL; 2009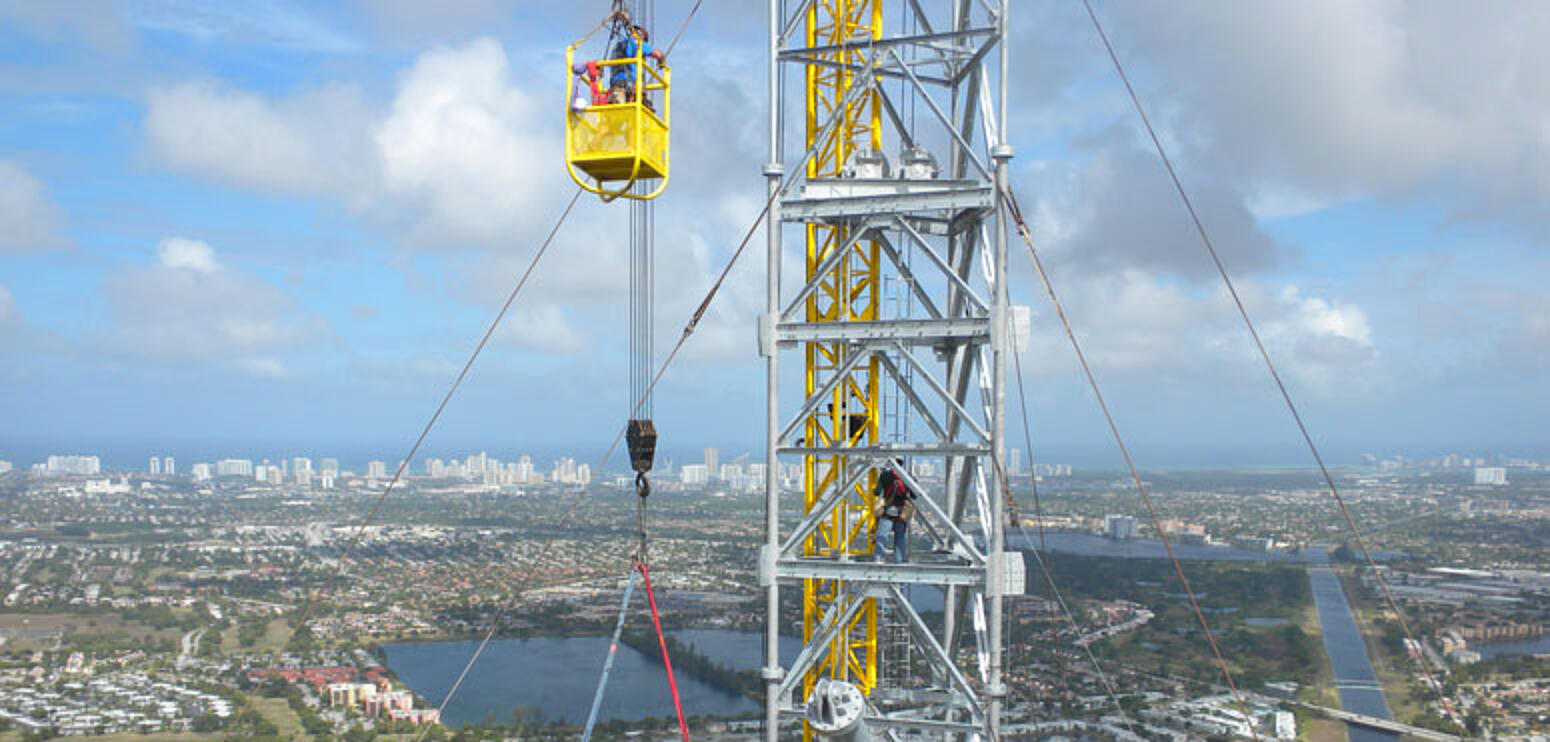 Piercing the cloudy heights of the Miami sky, the Candelabra communications tower is the tallest structure in the city at 1,042 feet. The structured tangle of more than 460 tons of tubular members, solid bar leg structures, fasteners, anchor bolts, and angle bracing was so impressive, it was featured in the October 2009 issue of Modern Steel Construction highlighting the challenging size and design of the project. A structure of this size had to slip-fit and all bolted holes needed to align and be clean and useful at the extreme height the material was to be assembled (more than 1,000 feet).
Galvanized steel is the most effective means of protection against the harsh sun, rain, and salty sea air of Miami. Specifiers in southern Florida now have a structure to inspect and examine in the future when determining what corrosion protection system to utilize, as the Candelabra will stand head and shoulders above the rest, corrosion-free, for generations to come.