Bridges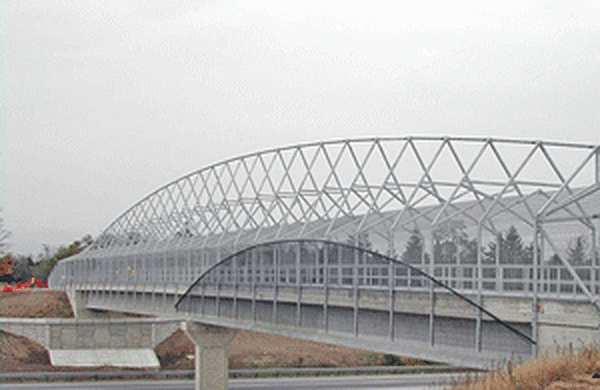 The American Society of Civil Engineers (ASCE) graded the nation's infrastructure as a D+ in 2017, and one of the biggest contributing factors to this designation was the crumbling state of American bridges. Over 9% of the country's bridges are structurally deficient because of corroded steel and steel reinforcement, with the highest proportion of deteriorated bridges found in urban environments, such as major cities.
Fortunately, there are ways to combat such costly and damaging corrosion and preserve our nation's infrastructure for future generations. When utilized in pedestrian and structural steel bridges, hot-dip galvanized steel can withstand the effects of corrosion for decades, maintenance-free, and ensure these structures will be standing strong long into the future.
Pedestrian Bridges
Whether spanning a busy highway or connecting a bike trail over a rushing stream, pedestrian bridges are created to provide safe, convenient travel for the community. The Pedestrian and Bicycle Information Center (PBIC) explains these bridges "separate pedestrians and bicyclists from vehicular traffic and allow for safe, uninterrupted pedestrian and bicycle traffic flow," and key to this safety is ensuring the structure itself is protected from the damaging effects of corrosion. With nearly 4,100 pedestrian/vehicle accidents in 2009, or 11 accidents every day of the year, protecting pedestrians and bicyclists should be a critical concern for city planners.
Structural Steel Bridges
Taking advantage of the inherently superior strength-to-weight ratio of steel, galvanized steel bridges provide an elegant, low-maintenance solution to our nation's infrastructure needs. Galvanized steel bridges provide a wide range of advantages when compared to competitors, ranging from aesthetic options, extended time to first maintenance, and even superior seismic stability.
Bridges Case Study
Stearns Bayou Bridge, Ottawa County, MI- Galvanized in 1966
This is believed to be the first fully galvanized bridge in the United States. Galvanized and installed in 1966, this county bridge measures 420 ft. (128 m) long. All steel used to erect the Stearns Bayou Bridge has no signs of rusting or staining, and is in excellent shape. The average mil thickness is 6.3 (160µm). Projected life expectancy to first maintenance is 66 years for the principal steel and 44 years for the handrail.