Renewable Energy

In 2016, renewable energy facilities accounted for approximately 15% of all energy generation, which grew from 10% in 2010. However, the construction of renewable energy facilities has increased in recent years and in the next 25 years is expected to account for 37% of all new capacity additions and produce 17% of total generation. Renewable energy projects, such as solar, wind, and hydro-electricity are expected to grow because of tax incentives and the nation's growing interest in maintaining an environmentally conscious society. As these "newer" technologies for energy generation crop up throughout North America, corrosion protection is a challenge each new generation farm or facility will face.

To protect these new, multi-million dollar ventures from the damaging and costly effects of corrosion, a proven method is needed, one that will also work in synergy with the green nature of these already clean sources of energy production. Each of these energy environments poses unique challenges to the structures placed in service for power generation. However, because the power generation source is renewable and plentiful, they provide limitless potential for growth of sustainable energy sources.

As architects, engineers, utility companies, and other specifiers design these projects which embody green energy production, using sustainable construction materials throughout the structures can further benefit the environment. Hot-dip galvanized (HDG) steel is the perfect complement with its 100% recyclability of both the zinc coating and underlying base steel without the loss of any physical or chemical properties and unparalleled corrosion performance for decades. Additionally, because of the maintenance-free durability, there are no additional raw materials or energy consumed, nor waste created throughout the life of the structure, saving resources and providing a perfect solution to the corrosion epidemic power projects in North America are facing.
Renewable Energy Case Study
Canadian Solar Farm- Simcoe, ON; 2010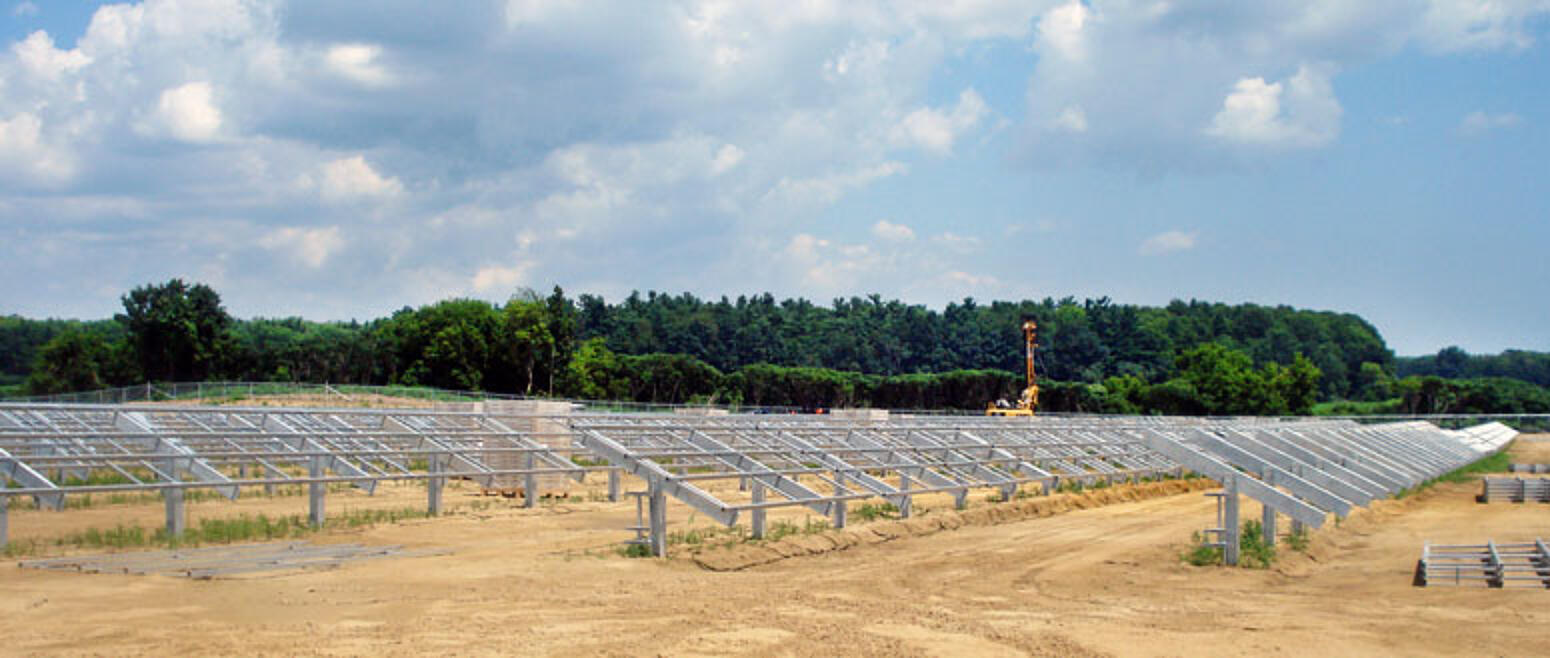 In recent years the push to "go green" has included everything from lowering ones water usage, to using more environmentally friendly household cleaning supplies. Alternative energy power sources have now been added to this new way of cleaner, safer, renewable living. Solar farms, which use naturally reoccurring elements in the environment to create power, almost immediately lower energy costs and greatly reduce harmful CO2 emissions.
Hot-dip galvanized steel beam piers now have a greater demand in the "green" community as more solar farms are erected. Serving as the base for each solar panel on the Canadian Solar Farm is a steel beam which is placed deep into the ground. Hot-dip galvanizing was the preferred corrosion protection method for this project because it falls in line with the effort to use environmentally friendly, long lasting products. This expansive solar power farm project called for 22,000 hot-dip galvanized steel beam piers, weighing a total of 2, 453 tons. This time sensitive job was completed in three months, producing the customer's desired quality, service, and turnaround time. The steel beam piers will be protected from corrosion and remain maintenance free for 75 years or more.