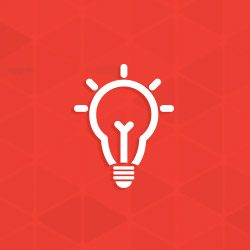 Virtual TechForum 2020 Wrap Up

Virtual TechForum 2020 was held Tuesdays and Thursdays from 11am – 1pm ET throughout the month of October and was a success thanks to a great line up of 16 presentations, 15 advertising sponsors, and two networking events. More than 200 people joined us virtually across the event series, many of whom attended multiple days of events. Though most were from North America, we were also joined by many friends of our industry from around the world.
Each year, the TechForum conference offers technical presentations and discussion topics common to the galvanizing process, and provides an excellent opportunity for peers to meet and exchange ideas on both a business and social level. Each week of Virtual TechForum 2020 focused on a particular theme to emulate the spirit of the conference virtually while broadening the audience to all the AGA membership.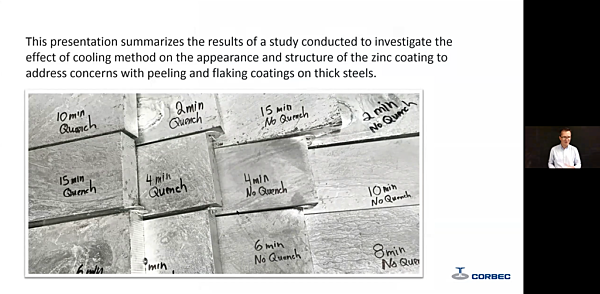 Week one featured a variety of topics focused on expertise and improvement in batch hot-dip galvanizing plant operations. Eric Michaud (Corbec, Inc.) shared the results of a study he conducted to investigate the effect of air cooling on the appearance and structure of the zinc coating to address concerns with flaking coatings on thick steels. Bob Woods (Zaclon LLC) followed Eric with a summary of available methods to clean steel and the evolution of cleaning methods to address safety and environmental impacts. Next, Khalil Hammade (TecCoat Metal Treatments) cleared up some misconceptions regarding the performance of non-hexavalent chromium passivation coatings and demonstrated environmentally friendly technologies to combat wet storage stain. Last, Alana Fossa (AGA) walked us through two new resources to assist galvanizers with detailed calculations which may be performed at the galvanizing plant: a progressive dip calculator and an Iron Maintenance Using the Kleingarn Curve.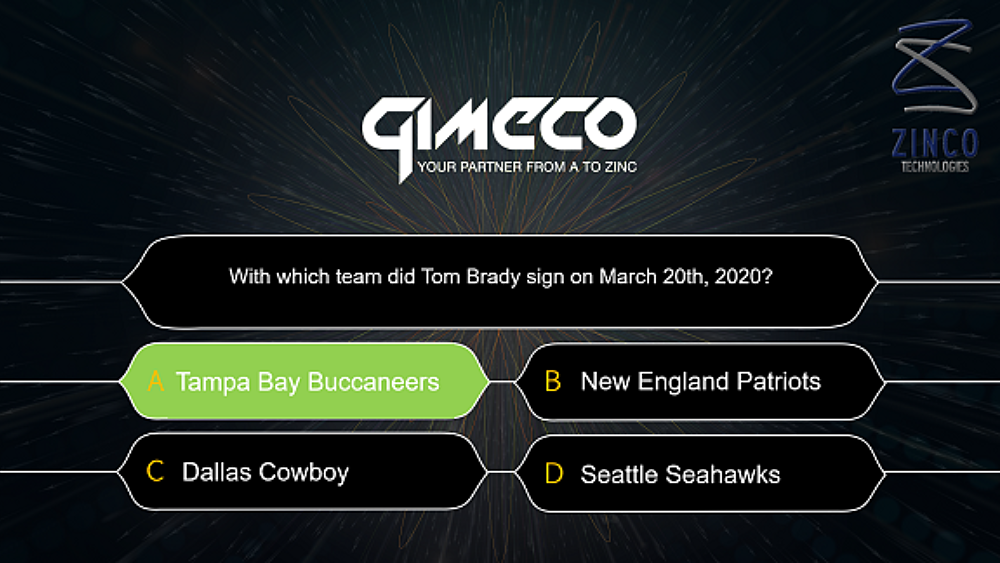 Week one concluded with a Virtual Trivia networking event put on by Zinco Technologies and Gimeco. Participants answered questions on topics from celebrities, football, and even a little bit of galvanizing to compete and win their chance at a free kettle inspection!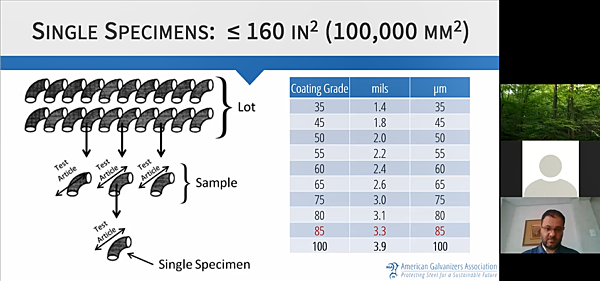 Week two of Virtual TechForum provided a sample of popular training topics from the AGA's Process and Inspection Seminars. Dr. Tom Langill (AGA) developed both of these courses which are normally presented in person either at the galvanizing plant or a regional location. This year, attendees could partake in free lessons on the factors influencing dip times and coating thickness, kettle set point, kettle maintenance, coating thickness inspection of large and complex parts, and galvanized coating repairs.
Week two also featured a networking event on material handling hosted by Connor Sampson and Brian Schlatterbeck of InfoSight Corporation. Galvanizers were asked to share their feedback on how they are solving racking, rigging, maintenance, part tracking, and lifting equipment issues at their plant.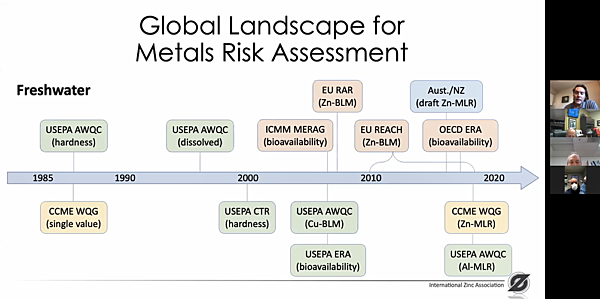 Moving into week three of the Virtual TechForum, the week's theme centered around technical advancements in the HDG industry. Bernardo Duran (International Zinc Association) kicked off the week by reviewing the results of select studies that have had far-ranging impacts on the specification and processing of batch hot-dip galvanizing. Bernardo also shared a copy of the relevant research studies to provide galvanizers with information to improve their customers' experience with specifying galvanizing. Next, Alana Fossa (AGA) shared Seattle Galvanizing's experience with mysterious rough coatings on flat bar and round/square stock and brought awareness to ongoing investigations to determine the cause, detections, and remediations. Eric Van Genderen and Adam Ryan (International Zinc Association) followed up by sharing their experience and success in applying the latest tools to increase stormwater permit limits for galvanizers. Finishing out the week, Michael Tyndall (OxiX Coatings) shared information on proprietary electron-dispersing branched-polymer technology which can be used to produce an environmentally friendly passivation for the galvanizing industry to prevent oxidation including wet storage stain.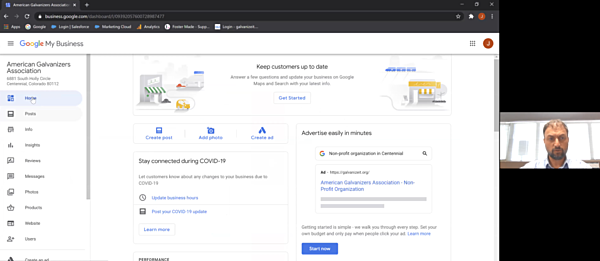 The focus of week 4 shifted to provide technical training from the AGA staff to sales and marketing personnel with practical information to be implemented right away. Melissa Lindsley (AGA) provided attendees with useful tips on efficient communication practices with your customer, whether in person or from a distance. Melissa followed up this presentation with training on using member-only resources from technical manuals to market research survey data and information on competitors. Next, John Krzywicki (AGA) taught us how to easily build a Google My Business profile, get listed in Google/Apple Maps, and develop a strategy for gathering and managing reviews. Alana Fossa (AGA) wrapped up the presentations with a lesson on how to predict HDG performance and evaluate approximate zinc corrosion rates for your customers using the AGA's Time to First Maintenance Charts, Performance of HDG in Soil Charts, and Dissimilar Metals Chart.
The AGA thanks all attendees and speakers for making TechForum 2020 a great success! We also wish to extend a huge thank you to Gimeco, Zinco Technologies, and InfoSight Corporation for hosting and sponsoring our two virtual networking events. Last, but certainly not least, we truly appreciate the support of all our sponsors: Western Technologies Inc., Natina, Zaclon LLC, HUB Industrial, W. Pilling Riepe GmbH, Mineral Research & Development, InfoSight Corporation, Dipl.-Ing. Herwig GmbH, Zinco Technologies, Gimeco, Bottaro Mario S.r.l., Hunter Chemical LLC, Carter Alloys Company, Scheffer Krantechnik GmbH, and Transtrade LLC.
If you missed Virtual TechForum 2020, please use the link below to download a copy of the presentation slides and recordings of the events.