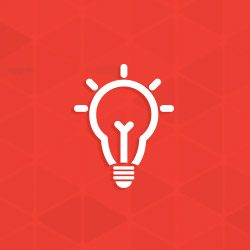 AGA Launches New Mobile Inspection App
The American Galvanizers Association (AGA) continues to move forward with the advancement of technology in order to help the galvanizing community more efficiently receive important information, tools, education as well as to better understand, specify, and utilize hot-dip galvanized steel. After successfully unveiling a new, user friendly, responsive website, the AGA created a comprehensive app to aid in the inspection of hot-dip galvanized steel.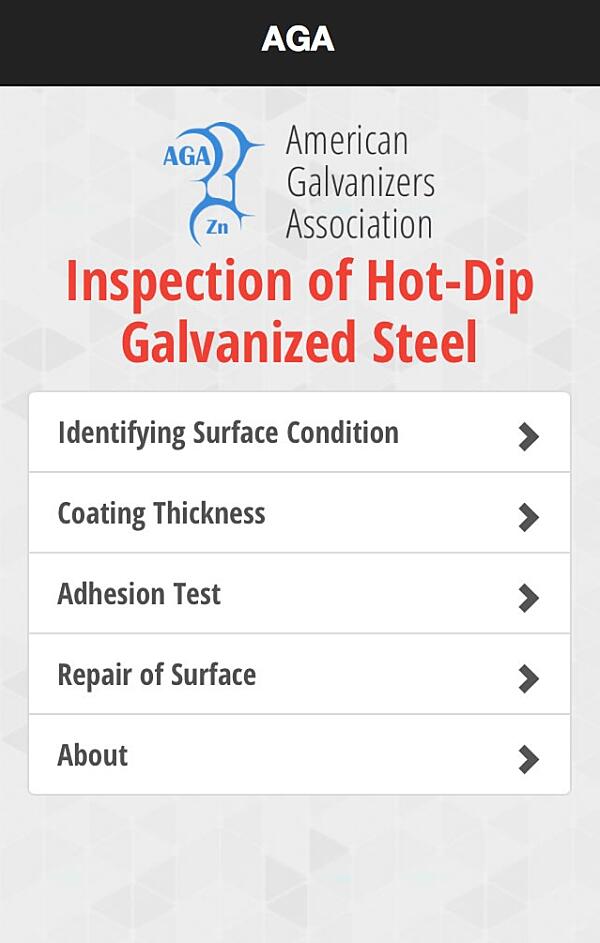 Hot-dip galvanizing is one of the most economical, maintenance-free corrosion protection systems available, yet still sometimes misunderstood. Like any other manufacturing process, hot-dip galvanizing requires conformance with established specifications and follows an inspection process to ensure compliance with such specifications. Visual inspection is generally very accurate and easy to perform to those educated in the galvanizing process. The specification has requirements for coating thickness, adherence, appearance and finish but many specifiers, fabricators, and inspectors have a hard time determining if a product meets the stated requirements.
This new mobile app serves as a visual guide to help inspectors, galvanizers, architects, and engineers to identify various surface conditions present after hot-dip galvanizing. "The advantage of a picture-based app is it provides inspectors, architects, and engineers who may be unfamiliar with the specific outcomes of the galvanizing process with a visual example of a surface condition similar to one they are viewing for their particular project," according to AGA Executive Director Philip Rahrig."
Although the information in the app is not new and can be found in the AGA Inspection Course as well as on the AGA website, the mobility has made it easier than ever for the user to inspect a project at the plant or in the field. The app provides visual interpretation of different hot-dip galvanizing surface conditions, allowing the user to compare their actual piece with the images in the guide. Along with images, the user can find text identifying the industry term for the surface appearance, detailing how and why it occurs, and whether or not it is accepted according to the specification.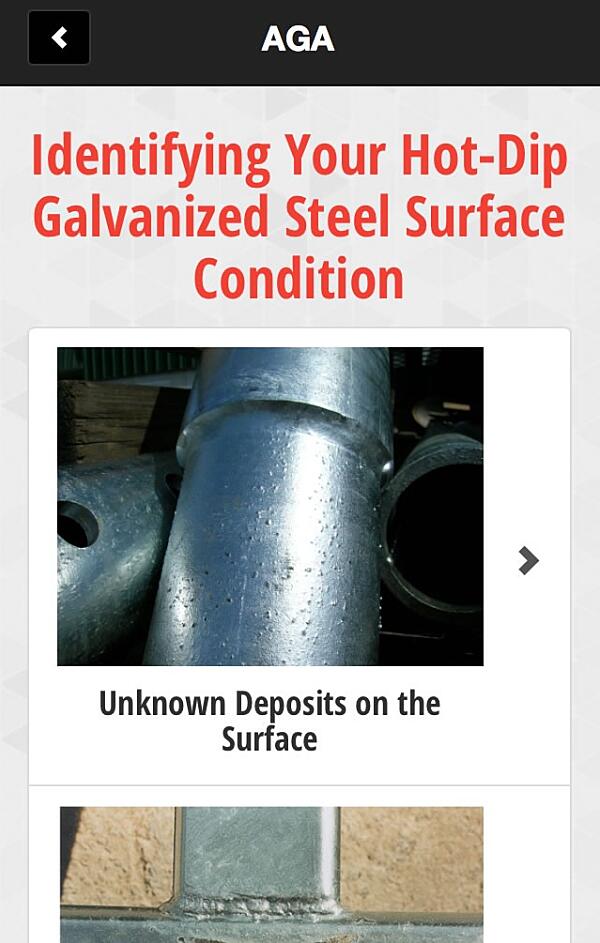 The new AGA Inspection of Hot-Dip Galvanized Steel mobile app is a great tool for anyone unsure about a surface condition, how to repair the condition, and what is and is not acceptable according to the specification. The app has great visual aids to assist those not properly educated on what galvanized steel should look like. It is available to purchase for your mobile device from the Apple and Google Play stores for $4.99. Visit the AGA website at galvanizeit.org/mobile for more information.