Inspection Course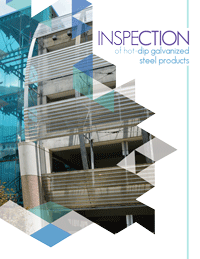 This course is intended to train individuals on the proper inspection techniques and requirements for hot-dip galvanized steel products. There are four sections in this course:

Hot-Dip Galvanizing Process
Galvanizing Standards
Types of Inspection
Repair
Upon completion of this course, you should be able to recognize specification requirements and perform all inspection steps to ensure conformance with the requirements. Additionally, any inspector who completes the course, and passes the test (80% or better) will receive a printable Certificate of Completion and will be listed on the AGA website as an inspector.
**Please make sure to fill out all contact information, including your country, in order to accurately be included in the Inspector Listing once the course is successfully passed.**
When taking the online Inspection Seminar, please use either the Chrome or Firefox browser.
Disclaimer
The information contained in this course has been compiled by the American Galvanizers Association (AGA), a not-for-profit trade association whose members represent the after-fabrication hot-dip galvanizing industry throughout North America. The material provided herein has been developed to provide accurate and authoritative information about after-fabrication hot-dip galvanized steel. This material provides general information only and is not intended as a substitute for competent professional examination and verification as to suitability and applicability. The information provided herein is not intended as a representation or warranty on the part of the AGA. Furthermore, the AGA makes no endorsement and offers no evaluation of any vendor's products, whether listed here or not. Anyone making use of this information assumes all liability arising from such use.
For details on the inspection of hot-dip galvanized steel on the go, don't forget to download our free app! Available in Apple and Google Play Stores.
Updated: April 2020