Other Galvanizing Standards
There are Canadian and international specifications that may be used to specify hot-dip galvanizing on a project. The differences in these specifications and the ASTM specifications are minimal, and for the most part, only differ slightly in the minimum coating thickness/weight required for each type and thickness of product being hot-dip galvanized.
Here is a summary of these specifications for hot-dip galvanizing (Taken from CSA and ISO Standards):
CAN/CSA-G164 Hot Dip Galvanizing of Irregularly Shaped Articles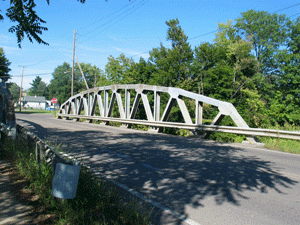 Scope
This standard specifies the requirements for zinc coating (galvanizing) by the hot-dipping process on iron and steel products made from rolled, pressed, or forged shapes such as structural sections, plates, bars, pipes, or sheets 1 mm thick or thicker.
Applies to both unfabricated and fabricated products such as assembled steel products, structural steel fabrications, large hollow sections bent or welded before galvanizing, and wire work fabricated from uncoated steel wire.
Applies to steel forgings and iron castings that are to be galvanized separately or in batches.
Does not apply to continuous galvanizing of chain link fence fabric, wire, sheet, and strip.
Does not apply to pipe and conduit that are normally hot dip galvanized by a continuous or semicontinuous automatic process.
The values stated in SI units are to be regarded as the standard. The values in parentheses are imperial units and are included for information only.
ISO 1461 Hot Dip Galvanized Coatings on Fabricated Iron and Steel Articles
Scope: This Standard specifies the general properties of and methods of test for coatings applied by hot dipping in zinc (containing not more than 2% of other metals) on fabricated iron and steel articles.
It does not apply to:
Sheet and wire continuously hot dip galvanized;
Tube and pipe hot dip galvanized in automatic process;
Hot dip galvanizing products for which specific standards exist and which may include additional requirements or requirements different from those of this European Standard.
After-treatment/overcoating of hot dip galvanized articles is not covered by this standard.
NOTE Individual product standards can incorporate this standard for the coating by quoting its number, or may incorporate it with modifications specific to the product.