Tour of Projects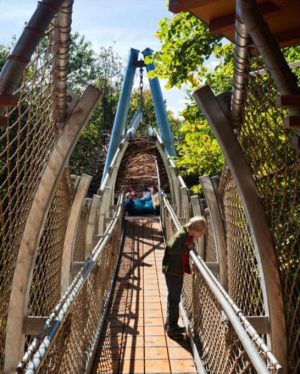 The galvanizing process has existed for more than 250 years and has been a mainstay of the North American industry since the 1890s. Galvanizing is used throughout various markets to provide steel with unmatched protection from the ravages of corrosion, and the use is constantly evolving. With new and innovative designs now specifying hot-dip galvanizing, it is important for architects, engineers, fabricators, detailers, and other designers to understand the best practices. Before we jump in though, let's review the reasons why galvanizing is specified and take a tour of successful hot-dip galvanized projects thanks to proper design.
Traditionally, hot-dip galvanized steel is specified for its superior corrosion protection, especially in harsh environments. Though corrosion resistance is inherent any time galvanizing is utilized, more and more specifiers select hot-dip galvanized steel for other reasons, including lowest initial cost, durability, longevity, availability, versatility, aesthetics, and sustainability. To learn more about the reasons specifiers choose hot-dip galvanized steel, take the Core Galvanize It! seminar.
Galvanized Steel Case Studies
Pyramid Residential Building - New York, NY (2015)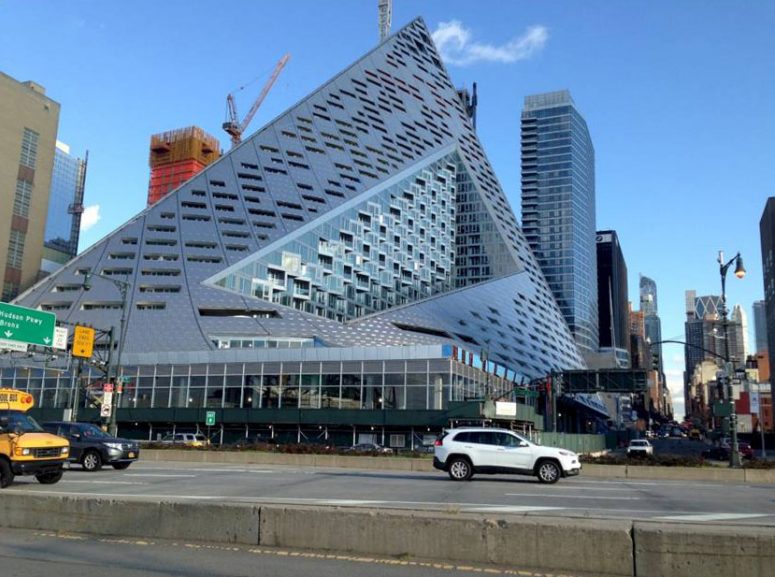 In the heart of New York City, along the Hudson River, gleams this very visible monument to hot-dip galvanizing. The VIA 57WEST housing project, designed by Bjarke Ingels Group (BIG) of New York, stands out as something different in a city that has hundreds of buildings trying to stand out. The project began when Douglas Durst visited the Ingels' Copenhagen studio in 2010 and was fascinated by the unique designs, particularly that each was so different and specifically designed for its location.
The VIA 57WEST is a dramatic, gateway to the Manhattan skyline and really incorporates both European and New York influences. Bjarke Ingles Group, which originates in Denmark, worked with the local steel fabricator and galvanizer to achieve the goal of building something that stands out. Hot-dip galvanizing was chosen for the building structure thanks to its maintenance-free longevity, while also being a nod to BIG's European influences, where hot-dip galvanizing is used much more prominently in buildings than in North America.

It is easy to see BIG accomplished their mission of standing out in a city where so many iconic structures already stand. On a sunny day the pyramid can be seen from most spots in Manhattan and Brooklyn. The beautifully designed building, which is in an area with the highest level of renovation in the past five years, is an amazing addition to the famous skyline. Thanks to hot-dip galvanized steel, VIA 57WEST will adorn that skyline beautifully for many generations to come.
7th Ave LRT Refurbishment - Calgary, AB (2005)
The City of Calgary, Alberta is a leader in the use of hot-dip galvanizing and duplex systems for infrastructure. Over the past decade, duplex systems have been used extensively on major overpass guardrails and pedestrian rails. Recently, the city has specified galvanizing for all reinforced steel in bridges. So when the city was ready to refurbish the 7th Avenue Light Rail Transit (LRT) System, hot-dip galvanizing was the logical choice. Because many commuters rely on the rail system, turnaround time was of the essence. The system had to be de-energized, erected, and re-energized in a 72-hour timeframe to minimize the impact on commuters. To create a uniform appearance, all hardware, hollow structural steel cords, tension members, columns, upper and lower arms, ornamental light posts, handrails, benches, and trash bins were hot-dip galvanized. The durable coating will be able to withstand the extreme winter climate and constant foot and rail traffic, while remaining aesthetically appealing. Following the success of this project, there are plans for up to 14 more similar station refurbishments in the near future.
Metrolina Greenhouses - Huntersville, CNC (1973)
Founders Tom and Vickie VanWingerden emigrated from the Netherlands in 1971 and initially rented a 20,000-square-foot greenhouse on 3 acres in Charlotte, North Carolina in 1972. One year later, the family moved to Huntersville, NC, opening a 40,000-square-foot greenhouse on 85 acres of land and started what is now the largest single-site greenhouse in the United States. The first greenhouse was a one-acre plastic covered galvanized structure.
By 1982, the greenhouse had grown to 12 acres and to 50 acres by 1996. During the last 15 years they have grown from 50 acres to 141 acres of greenhouse space and hot-dip galvanizing has been integral to all of the construction. Galvanizing was engineered into the first buildings and all future construction will include it to protect the steel from the moist environment of the greenhouse.
Hot-dip galvanizing is the only coating that is capable of withstanding the wet conditions necessary in a working greenhouse. Metrolina uses about 1 million gallons of water per day in the summer to keep our plants thriving. Galvanizing protects all of the steel used to support the structure of the glass houses and it performs for decades without maintenance. This allows us to dedicate our resources to expansion and not repairs.