Tour of Projects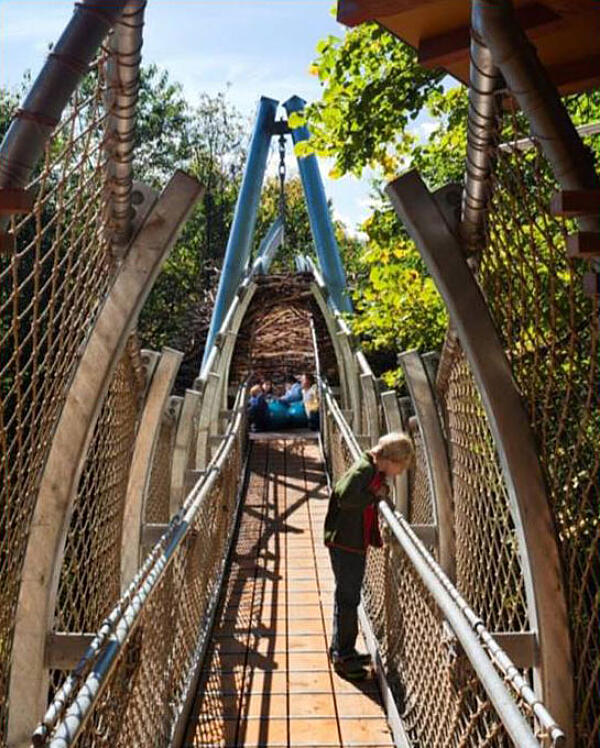 The galvanizing process has existed for more than 250 years and has been a mainstay of the North American industry since the 1890s. Galvanizing is used throughout various markets to provide steel with unmatched protection from the ravages of corrosion, and the use is constantly evolving. With new and innovative designs now specifying hot-dip galvanizing, it is important for architects, engineers, fabricators, detailers, and other designers to understand the best practices. Before we jump in though, lets review the reasons why galvanizing is specified and take a tour of successful hot-dip galvanized projects thanks to proper design.
Traditionally, hot-dip galvanized steel is specified for its superior corrosion protection, especially in harsh environments. Though corrosion resistance is inherent any time galvanizing is utilized, more and more specifiers select hot-dip galvanized steel for other reasons, including lowest initial cost, durability, longevity, availability, versatility, aesthetics, and sustainability. To learn more about the reasons specifiers choose hot-dip galvanized steel, take the Core Galvanize It! seminar.
Galvanized Steel Case Studies
Mario M. Cuomo Bridge - TarryTown, NY 2017

The Mario M. Cuomo Bridge is the largest bridge project in New York state history, and one of the largest design-build projects in the United States. The bridge replaces the Tappan Zee Bridge, spanning over the Hudson River, connecting Tarrytown and Nyack, about 30 miles north of New York City. The 60+ year old bridge had been heavily refurbished in recent years but was still becoming a traffic nightmare while carrying 140,000 vehicles per day. Maintenance and upkeep over the next 20 years were estimated to cost as much as a replacement, thus the solution was to build a new structure.
Developed by Tappan Zee Constructors, LLC (TZC), a consortium of top design, engineering and construction firms including Fluor, American Bridge, Granit, Traylor Bros., HDR, Buckland & Taylor, URS, and GZA, the new 3.1-mile twin span cable stayed bridge was built to have a 100-year design life. Working closely with the New York State Thruway Authority and the State Department of Transportation, the TZC completed the bridge on a strict 32-month schedule and within a $3.98 billion budget. The first span opened in August 2017 and the rest was set to open in 2018.

Once completed, the Governor Mario M. Cuomo Bridge will ease traffic between southern and western New England with eight traffic lanes, four emergency lanes, and state of the art traffic monitoring systems. Furthermore, there will be a lane solely for commuter buses as well as a bicycle and pedestrian path, and thanks to forward thinking the bridge also has the possibility to add mass transit options in the future.
7th Ave LRT Refurbishment - Calgary, AB (2005)
The City of Calgary, Alberta is a leader in the use of hot-dip galvanizing and duplex systems for infrastructure. Over the past decade, duplex systems have been used extensively on major overpass guardrails and pedestrian rails. Recently, the city has specified galvanizing for all reinforced steel in bridges. So when the city was ready to refurbish the 7th Avenue Light Rail Transit (LRT) System, hot-dip galvanizing was the logical choice. Because many commuters rely on the rail system, turnaround time was of the essence. The system had to be de-energized, erected, and re-energized in a 72-hour timeframe to minimize the impact on commuters. To create a uniform appearance, all hardware, hollow structural steel cords, tension members, columns, upper and lower arms, ornamental light posts, handrails, benches, and trash bins were hot-dip galvanized. The durable coating will be able to withstand the extreme winter climate and constant foot and rail traffic, while remaining aesthetically appealing. Following the success of this project, there are plans for up to 14 more similar station refurbishments in the near future.
Frederik Meijer Botanical Garden & Sculpture Park - Grand Rapids, MI (1994)
The American Galvanizers Associations 1995 Most Distinguished Excellence in Hot-Dip Galvanizing Award winner, Frederik Meijer Gardens & Sculpture Park opened in April 1995 after 13 years of planning and fundraising by the West Michigan Horticultural Society. The 15,000 square foot, five-story Lena Meijer Tropical Conservatory is the heart of the facility, and houses a waterfall, rock landscapes, and exotic plants.
Galvanizing was selected for this project because of its 'maintenance-free' corrosion protection characteristics. According to the designers, this project would be difficult to paint the first time and maintenance painting would be practically impossible. In addition to structural components, walkway materials, and concrete reinforcing steel were also galvanized. A vital factor to be taken into account in the assessment of a coating system for buildings and structural steel is the relative effectiveness of coatings. No protective coating applied to a structure after completion can provide the same level of maintenance-free protection as a galvanized coating which covers the entire surface of all components, automatically protecting areas to which later access may be difficult or impossible.

On a recent trip to Frederik Meijer Gardens, the designer of the project, Architect Bob Pomeroy, shared some insight into the serendipitous way hot-dip galvanizing was chosen to protect the conservatory. In the early 90s, representatives from the firm Cox Medendorp Olson Architects, who had been slated to work on the project, attended an American Horticultural Society national convention in New York City. During their visit, the idea to hot-dip galvanize the structural steel was developed based on a series of events. First, the keynote speaker at the conference, the director of Kew Gardens outside London, discussed the new Princess of Wales Conservatory. After his presentation, the representatives from Michigan were able to meet and talk with the director who said he would not build a conservatory with anything other than hot-dip galvanized steel.