Touch-Up and Repair
The touch-up and repair of hot-dip galvanized steel coatings is important to maintain uniform barrier and cathodic protection as well as ensure longevity. Although the hot-dip galvanized coating is very resistant to damage, small voids or defects in the coating can occur during the galvanizing process or due to improper handling of the steel after galvanizing. Touch-up and repair of galvanized steel is simple whether newly galvanized or in service for years. The practice is the same, but there are more restrictions to the allowable repairs on a new product than one that has been in service.
The main restriction in the specification for repairing newly galvanized material is the size which is outlined in the product galvanizing specifications (A123, A153, and A767). According to those specifications, the allowable area for repair is no more than ½ of 1% of the accessible surface area on that article, or 36 in2 (22,500 mm2) per ton of piece-weight, whichever is less. ASTM A780 Practice for Repair of Damaged and Uncoated Areas of Hot-Dip Galvanized Coatings details how to repair the damaged coating. Another tenet of the specification is the coating thickness of the repair area. Touch-up materials are required to meet a coating thickness of at least 2.0 mils (50.8 ?m) for one application, and the final coating thickness of the repair area is dictated by the material used to do the repair.
The AGA has an online video series for Touch-Up and Repair of Hot-Dip Galvanized Steel. Six short videos detail the many aspects to consider when touching up or repairing HDG steel.
ASTM A780 includes three acceptable methods of touch-up and repair of hot-dip galvanized steel:
Zinc-Based Solders
Soldering with zinc-based alloys is achieved by applying zinc alloy in either a stick or powder form. The area being repaired needs to be preheated to approximately 600 F (315 C). The acceptable material compositions of solders used for repair are included in the specification. The final coating thickness for this repair shall meet the specification requirement for the material category of the steel part being repaired with a maximum thickness of 4 mils (100 ?m). The thickness shall be measured by any of the methods in A123/A123M that are nondestructive. Zinc-based solder products closely match the surrounding zinc and blend in well with the existing coating appearance.
Zinc-Rich Paints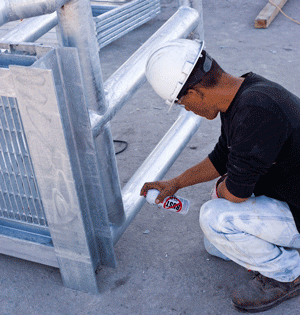 Zinc-rich paint is applied to a clean, dry steel surface by either a brush or spray. Zinc-rich paints must contain either between 65% to 69% metallic zinc by weight or greater than 92% metallic zinc by weight in the dry film. Paints containing zinc dust are classified as organic or inorganic, depending on the binder they contain. Inorganic binders are particularly suitable for paints applied in touch-up applications of undamaged hot-dip galvanized areas. The coating thickness for the paint must be 50% more than the surrounding coating thickness, but not greater than 4.0 mils (100 ?m), and measurements should be taken with either a magnetic, electromagnetic, or eddy current gauge to ensure compliance.
Zinc Spray (Metallizing)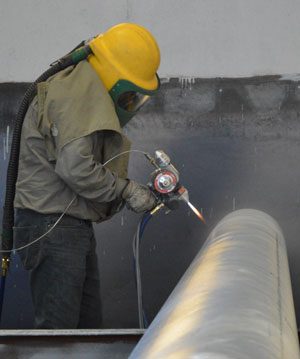 Zinc spray metallizing is done by melting zinc powder or zinc wire in a flame or electric arc and projecting the molten zinc droplets by air or gas onto the surface to be coated. The zinc used is nominally 99.5% pure or better. The renovated area shall have a zinc coating thickness at least as thick as that required in ASTM A 123/A 123M for the material category. For best results, thickness measurements for the metallized coating should be taken with either a magnetic or an electromagnetic gauge.