Threaded & Moving Parts
Two other items that require a little special attention when planning for hot-dip galvanizing are threaded and moving parts. Because hot-dip galvanizing adds thickness, even though minimal, to the final part, the match up of these types of assemblies can be altered. As the function of both requires a great fit, it is important to consider how to account for the zinc coating thickness before galvanizing, so the parts fit correctly afterwards.
Threaded Parts
Hot-dip galvanized fasteners are recommended for use with hot-dip galvanized subassemblies and assemblies. Galvanized nuts, bolts, and screws in common sizes are readily available from commercial suppliers. Bolted assemblies should be sent to the galvanizer in a disassembled condition. Nuts, bolts, or studs to be galvanized also should be supplied disassembled.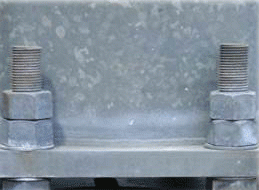 The hot-dip galvanized coating of corrosion-inhibiting, highly abrasion-resistant zinc makes the part slightly thicker, and when it comes to tapped holes and fasteners, the increased thickness is important. Bolts are completely galvanized, but internal threads on nuts must be tapped oversize after galvanizing to accommodate the increased diameter of the bolts. While chasing or retapping the nuts after galvanizing results in an uncoated female thread, the zinc coating on the engaged male thread will protect both components from corrosion. For economy, nuts are usually galvanized as blanks and the threads tapped oversize after galvanizing.
Tapped through-holes must be retapped oversize after galvanizing if they are to contain a galvanized bolt after assembly. Tapping of all holes after galvanizing is recommended to eliminate double-tapping costs and the possibility of cross-threading. Oversizing holes according to American Institute of Steel Construction (AISC) guidelines is usually sufficient for clearance holes to account for the zinc coating's thickness.

The recommended overtapping for nuts and interior threads is detailed in ASTM A563, Specification for Carbon and Alloy Steel Nuts. On threads over 1.5" (38 mm) it is often more practical, if design strength allows, to have the male thread cut 0.031" (0.8 mm) undersize before galvanizing so a standard tap can be used on the nut.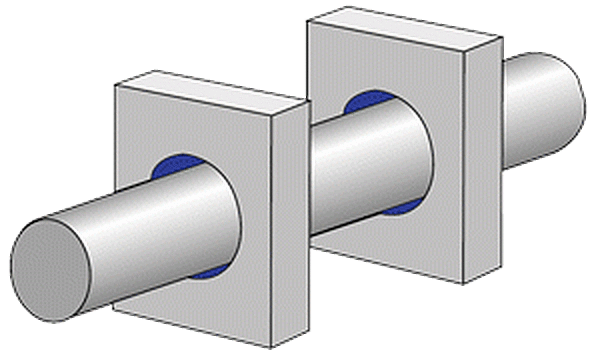 Moving Parts
When a galvanized assembly incorporates moving parts (such as drop-handles, shackles, and shafts), a radial clearance of not less than 1/16" (1.5 mm) must be allowed to ensure full freedom of movement after the addition of zinc during galvanizing. Whenever possible, work should be designed so that hinges can be bolted to frames, covers, bodies, and other items after galvanizing.

Must accommodate for zinc coating thickness
Radial clearance of at least 1/16" needed
Hinges- galvanize separately and assemble after

Adjacent edges should be ground to give at least 1/32" clearance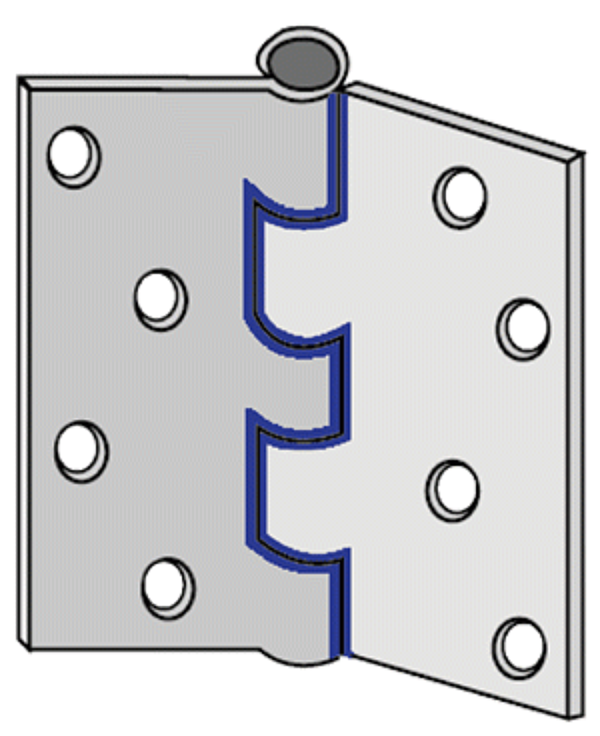 Hinges should be galvanized separately and assembled after galvanizing. All hinges to be galvanized should be of the loose-pin type. Before galvanizing, any adjacent edges should be ground to give at least 1/32" (0.8 mm) clearance. The pin holes can be cleared of excess zinc during assembly. After hinges are galvanized, it is recommended an undersized pin be used to compensate for the zinc picked up during galvanizing. If desired, the pin holes in the hinges may be reamed 1/32" (0.8 mm) after galvanizing to permit the use of regular-size pins. On hinges, all adjacent surfaces must be ground 1/32" (0.8 mm) on both pieces to allow for thickness increases. Grinding both pieces is necessary.
At times, moving parts must be reheated in order for them to work freely. Although heating may cause discoloration of the galvanized coating near the reheated area, this discoloration does not affect the corrosion protection of the galvanized surface.