Duplex Systems
Though many specifiers are familiar with one type of corrosion protection or another, few realize the intrinsic value of utilizing two corrosion protection systems together, known as a duplex system. A duplex system is formed by painting or powder coating over hot-dip galvanized steel. When used together, the corrosion protection of the two systems combined is far superior to either protection system used independently. However, the most important element to a successful duplex system is proper surface preparation. Once again, this begins at the drawing board and requires communication among the designer, fabricator, galvanizer, and painter/coater throughout the process.
Why Coat Galvanized Steel?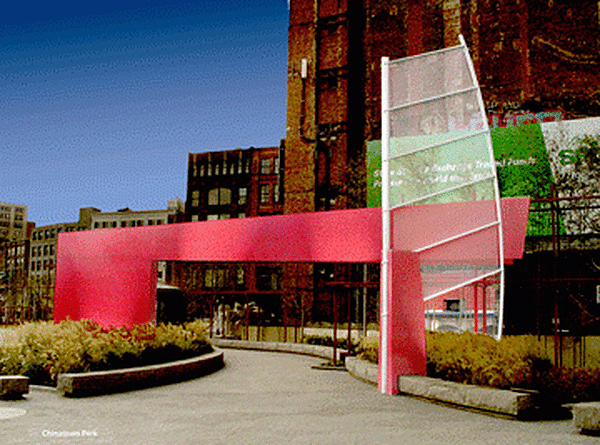 There are a number of reasons why utilizing a duplex system is advantageous. As more specifiers understand the importance of corrosion protection, galvanized steel used in conjunction with paint/powder coatings has risen. In addition to extended life (synergistic effect), here are some other benefits of specifying a duplex system:
Aesthetics
Color Coding/Safety
Extended Corrosion Resistance
Ease of Repainting
Economic Benefit
Synergistic Effect
Paint and galvanizing work in synergy. The paint prevents atmospheric attack on the zinc and the zinc prevents underfilm corrosion from cracking the paint. According to several studies conducted in Europe, the synergistic effect means the zinc-paint combination will last 1.5 to 2.3 times longer than the sum of the paint and galvanizing systems alone. So, for a 70 year galvanizing life and a 10 year paint life, the system will last from 120 - 220 years. Practically speaking, no paint lasts that long without being repainted. But what the synergistic effect means is paint lasts longer, generally 1.5 to 2.3 times longer than if applied over black steel and the repaint cycle is thus extended. This represents a significant cost savings over the life of the project.
Roles & Responsibilities for Surface Preparation
Specifier
Inform all parties the article is to be duplexed
Mutually agree with all parties on responsibility for surface smoothing after HDG
Galvanizers
Refrain from HDG post treatments (i.e. quenching)
Mutually agree with all parties on responsibility for surface smoothing
Paint/Powder Coating Applicator
Cleaning, Profiling, and potential Outgassing
Mutually agree with all parties on responsibility for surface smoothing
Duplex System Case Study
Tommy Garrott Aquatics Facility- Gallatin, TN (2017)

What used to be an empty field in Gallatin, Tennessee is now the most exciting place to cool off on hot days in Summer County. The Tommy Garrott Aquatics Center offers visitors Gallatin's first zero-depth pool, complete with a splash pad, spray toys, two towering twisting water slides and a speed slide all at a low-cost admission. With plans to add a lazy river and therapy pool, the days of driving hours to an expensive waterpark, just to wait in long lines in cramped spaces, are over.

The waterpark fabricator, Vortex Aquatics Structures, is no stranger to the corrosive waterpark environment. With over 6,500 installations in 45 countries, Vortex's mission is to lead the aquatic play industry by continuing to develop the most fun, innovative and safe products to families and children of all ages and abilities. This industry experience led them to the selection of a duplex system for every steel component in The Tommy Garrott Aquatics Facility to ensure residents and visitors can enjoy it safely for many years to come.
Hot-dip galvanizing has been used successfully in the waterpark industry for years and has now become an industry standard. Powder Coating over the galvanized steel adds an additional layer of protection while providing the fun, exciting visual appearance people expect out of a waterpark. With an annual expected attendance of 30,000-40,000 people from up to a 75-mile radius, minimal maintenance and optimal performance was a necessity.