Transportation Infrastructure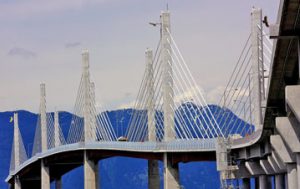 America is a nation on the go. Whether traveling across bridges and highways, moving along train tracks, or flying the friendly skies, we are constantly on the move, and the country allocates billions of dollars to support this transportation infrastructure system.
Unfortunately, the annual direct cost of corrosion for highway bridges is estimated to be $6.3 to $10.15 billion. This means to protect the investment in transportation infrastructure, the specter of corrosion in our bridges, highways, and mass transit systems must be addressed to ensure steel structures will last long into the future.
Explore the advantages of utilizing hot-dip galvanized steel, examining cost, sustainability and durability, and see how your transportation project can benefit when you go with galvanizing.
Bridge & Highway
Connecting the width and breadth of our nation, transportation elements such as bridges, guardrail, mechanically stabilized earth, and reinforcing steel knit together communities across the country. This transportation system is also a key facilitator of economic movement, sending goods and people to and fro to conduct business and stimulate the economy.
As the government commits large sums of taxpayer dollars to develop and upkeep these critical transportation systems, protecting this investment from deterioration should be of the utmost importance. Hot-dip galvanized steel works to prevent such costly and damaging corrosion and preserve our nation's infrastructure for future generations.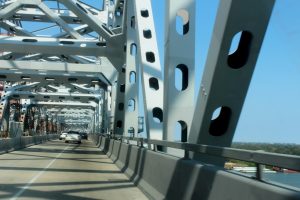 Bridges
The American Society of Civil Engineers graded the nation's infrastructure as a D, and one of the biggest contributing factors to this designation was the crumbling state of American bridges.
Fortunately, there are ways to prevent such costly and damaging corrosion and preserve our nation's infrastructure for future generations. When utilized in pedestrian, structural steel, and concrete bridges, hot-dip galvanized steel can withstand the effects of corrosion for decades, maintenance-free, and ensure these structures will be standing strong long into the future.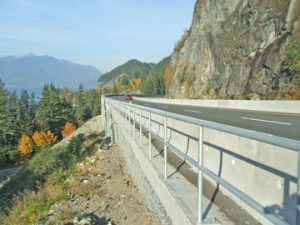 Highway Products
Driving along the highway, one can witness countless opportunities to save taxpayer dollars wasted on routine maintenance or destructive corrosion. From the road signage overhead, to the guardrail on the ground, scores of highway products could benefit from the superior corrosion protection of hot-dip galvanized steel. Sign structures, barriers and retaining walls, fencing, and guardrail alike are consistently exposed to the harsh effects of outdoor exposure to rain, snow, road chemicals, and traffic pollution.
To protect these products from deterioration, a tough, durable corrosion protection system is needed to preserve the taxpayers' investment. It should be low-maintenance, keeping fees and energy expense at bay, while maintaining an attractive, rust-free aesthetic. Finally, the system should maintain the function and stability of these highway products, keeping them in service for generations. Hot-dip galvanized steel for corrosion protection can provide all of these benefits.
Mass Transit

With a growing population and an increasing focus and dependency on mass transit options for both people and goods, options such as airplanes, commercial and passenger rail, and bus systems all are critical elements of our nation's transportation system.
With the most expansive airport system in the world and a rail system that spans across the nation, the US must invest in the future of these infrastructure elements by protecting them from dangerous, costly corrosion. It is estimated that 20-30% of annual corrosion costs could be eliminated if corrosion management practices were in place – and utilizing hot-dip galvanized steel in air, rail, and bus systems can help keep corrosion at bay for generations.
Airports
From the airport parking lots and terminals, to the fencing and storage in the airfield itself, corrosion can wreak havoc on the daily functions of a busy airport. It is critical to protect steel elements from corrosion to keep airport operations running smoothly and efficiently, and keep travelers on their way to their destinations without the hassles of safety or maintenance delays. Galvanized steel can be utilized both in the terminals and concourses, as well as on the airfield.
Rail & Bus
According to the American Society of Civil Engineer's (ASCE) Infrastructure Report Card, the use of intercity passenger and commuter rail service is increasingly being recognized as a worthwhile transportation investment; meanwhile, freight rail use continues to increase as well.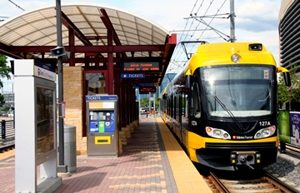 It is critical to protect these large investments with a sustainable, durable, maintenance-free corrosion protection system that will withstand the effects of rough usage and environmental exposure. Hot-dip galvanized steel can achieve these goals, protecting public transportation stations and railway infrastructure for generations.