In Concrete
Reinforcing steel bars (rebar) are embedded in concrete to provide strength and is critical to the integrity and performance of the structure throughout its life. As concrete is a porous material, corrosive elements such as water, chloride ions, oxygen, carbon dioxide, and other gases travel into the concrete matrix, eventually reaching the rebar. Once the concentration of these corrosive elements surpasses steels corrosion threshold, the rebar starts to corrode. As the rebar corrodes, pressure builds around the bar leading to cracking, staining, and eventually spalling of the concrete.
Because failure of the rebar leads to compromised or failing structural capacity, protecting against premature rebar failure is key. Similar to in the atmosphere, galvanized rebar extends the life of the steel in concrete. The corrosion mechanisms in concrete are quite different than atmospheric exposure, and one of the biggest factors is chloride concentration. Galvanized rebar can withstand chloride concentration at least four to five times higher than black steel, and remains passivated at lower pH levels, slowing the rate of corrosion.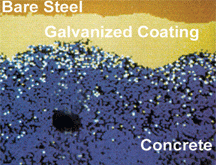 In addition to the higher chloride tolerance, once zinc corrosion products are formed from the galvanized rebar, they are less voluminous than iron oxide and actually migrate away from the bar. The image (right) shows the white zinc particles migrating away from the bar (galvanized coating) and into the pores of the concrete matrix. This migration prevents the pressure buildup and spalling caused by iron oxide particles.
The total life of galvanized steel in concrete is made up of the time taken for the zinc to depassivate, plus the time taken for consumption of the zinc coating, as it sacrificially protects the underlying steel. Only after the coating has been fully consumed in a region of the bar will localized steel corrosion begin.