Availability & Versatility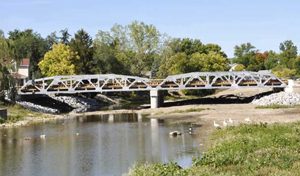 Hot-dip galvanized (HDG) steel is versatile and readily available. Galvanizers are found throughout North America, and thanks to the factory-controlled process, a wide variety of steel shapes and sizes can be hot-dip galvanized 24/7/365 – rain or shine. Furthermore, zinc solidifies upon withdrawal from the bath, so there are no delays for curing when schedules are tight. On the other hand, hot-dip galvanized steel can be easily stored or stocked outside, without degrading the coating's integrity, until it is ready to be erected.
Hot-dip galvanized steel is made of two primary components – zinc and steel. Both are natural, abundant elements in the Earth's crust; in fact iron ore is the 4th most abundant element, and zinc is the 24th. In addition to being abundant, both steel and zinc are 100% recyclable without the loss of any chemical or physical properties. This means they can be used as zinc and steel (or galvanized steel) again and again – creating an infinitely renewable resource.
Efficiency & Safety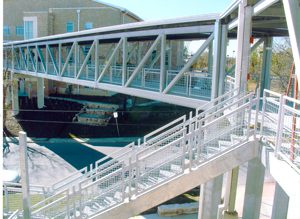 With galvanized steel, you can do more with less. Because of the high strength-to-weight ratio, specifying projects with steel saves materials and energy. In fact, on average one ton of steel provides the same strength as 8 tons of concrete, and according to the World Steel Association, the strength-to-weight ratio minimizes substructure costs and can also save money on transportation and handling.
Structural safety and stability are critically important to the integrity of steel construction, and cannot be maintained if the structure has been weakened by the ravages of corrosion. Hot-dip galvanized steel pieces which remain corrosion resistant for decades preserve the structural integrity of steel construction and protect against disaster.