Specifying Duplex Systems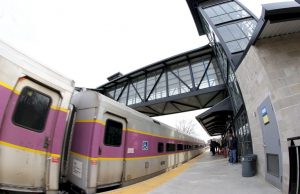 Specifying duplex systems is relatively simple, if proper surface preparation steps are followed, as prescribed in the specifications. Some galvanizers market and sell their own duplex systems or will bid both the paint and the galvanizing as a duplex job (using their own resources, or partnering with a painter themselves). However, it is much more common that the hot-dip galvanizing and top coat (paint or powder) will be bid as two separate contracts. In this instance, communication is paramount to the success of the Duplex System.
Although some surface conditions present on hot-dip galvanized coatings do not affect the corrosion protection and are typically acceptable such as roughness, small dross inclusions, or zinc runs; these surface conditions can affect adhesion of the coating and are therefore not in accordance with ASTM D6386 (painting) or ASTM D7803 (powder coating).
When the galvanizer and the paint or powder coating applicator are comprised of two different parties, critical surface preparation steps can sometimes be left out due to poor communication, resulting in an upset customer over a lumpy coating or adhesion issues. Therefore, it is important to clarify responsibility and accountability before the coatings are applied. Make sure there is a clear communication of the following roles and responsibilities:
Customer Responsibility -The customer or the party responsible for paint application should inform the galvanizer ahead of time that the part is to be painted after galvanizing.
Galvanizer's Responsibility - When informed, the galvanizer is responsible for ensuring no post-treatments are performed such as water or chromate quenching.
Galvanizer OR Paint Applicator Responsibility - Once the galvanizer and painter are mutually aware the article is to be painted or powder coated after galvanizing, the paint applicator and the galvanizer must communicate and agree on responsibility for surface smoothing. The surface smoothing requirements are defined in ASTM D6386 Section 5.2 or ASTM D7803 Section 5.1.1, and responsibility should be agreed to prior to hot-dip galvanizing.
Coating Applicator Responsibilty - Beyond surface smoothing, any further surface preparation required for painting or powder coating hot-dip galvanized steel such as checking for chromate conversion coatings, surface cleaning, wet storage stain removal, surface profiling, and outgassing for powder coating are the responsibility of the paint or powder coating applicator. These preparation steps should be performed as required for each initial surface condition identified (newly galvanized, partially weathered, fully weathered).
Pertinent Specifications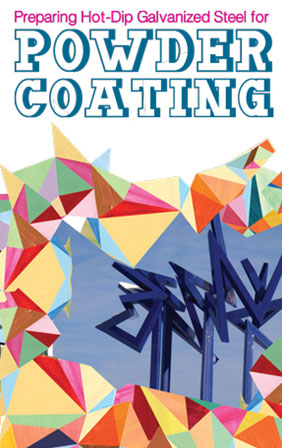 The preparation of hot-dip galvanized surfaces for painting or powder coating is governed primarily by ASTM and SSPC specifications.
ASTM D6386: Preparation of Zinc (Hot-Dip Galvanized) Coated Iron and Steel Product and Hardware Surfaces for Painting details recommended practices for preparing hot-dip galvanized surfaces for painting, including practices for surface smoothing, cleaning, and profiling based on the identified initial HDG surface condition.
ASTM D7803: Preparation of Zinc (Hot-Dip Galvanized) Coated Iron and Steel Product and Hardware Surfaces for Powder Coating details recommended practices for preparing hot-dip galvanized surfaces for powder coating, and also includes practices for surface smoothing, cleaning, and profiling based on the identified initial HDG surface condition. However, D7803 also provides guidance on a thermal pretreatment to be performed after surface preparation which is necessary to prevent outgassing of the galvanized coating during the baking step in the powder coating curing process.
SSPC SP16: Brush-Off Blast Cleaning of Coated and Uncoated Galvanized Steel is a surface preparation standard which details the method for brush-off blast cleaning for hot-dip galvanized steel which is one of the commonly used surface profiling methods. This abrasive blast cleaning standard allows the profiling of the surface without damaging the hot-dip galvanized coating.
SSPC Guide 19: Selection Of Protective Coatings For Use Over Galvanized Substrates assists owners and specifiers to select an appropriate generic coating for protection of galvanized steel surfaces exposed to aggressive environments, taking into account the environment, condition of the galvanizing, and surface preparation.
For further guidance with respect to these specifications, the AGA has instructional DVDs and guide booklets that cover surface preparation for painting and powder coating over HDG which are available in the Publications section of the AGA website.
Specification Case Study
Dali Museum: St. Petersburg, FL, 2010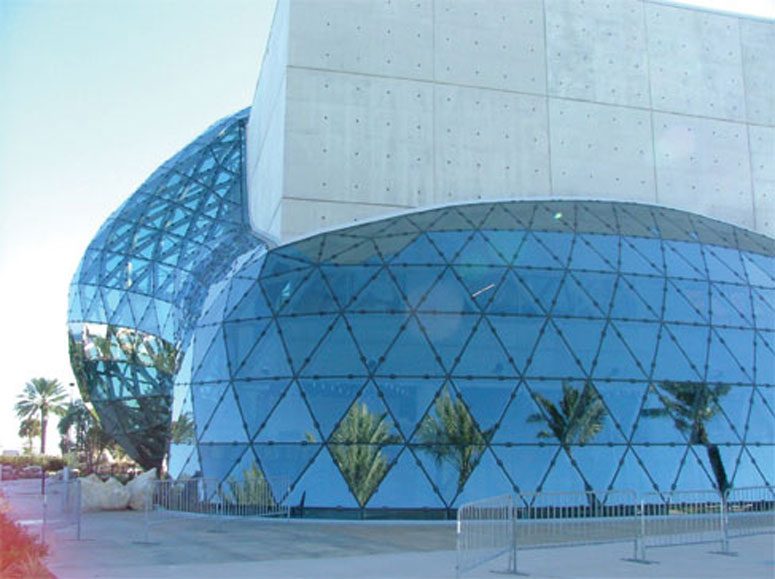 The structure, located in the highly corrosive Floridian coastal environment, faced several development challenges. All steel elements of the museum needed a durable, low-maintenance corrosion protection system to guard against unsafe and unsightly corrosion; however, the appearance of the structure must also be pleasing to the eye, without distracting from the glass structure. Finally, the complexity and scale of the architecture required the steel elements be fabricated, processed, and delivered to the jobsite in order and without loss.
Incorporating a duplex system of powder coating over hot-dip galvanized steel for corrosion protection was the ideal solution for addressing all of these concerns. A duplex system combines the superior protection of galvanized steel with the additional benefits of another corrosion protection system, such as powder coating or paint, to extend the maintenance-free life of the project. The powder coated finish allowed a color selection that would blend with the facility, while the galvanized steel beneath ensured the pieces would be protected by the most durable corrosion protection system available- the best of both worlds.