Preparing the HDG Surface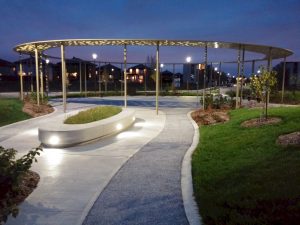 Successfully painting over hot-dip galvanized steel is relatively simple. Just like painting on any other surface, proper surface preparation is key to creating an effective bond between the paint and the galvanized surface. Galvanized steel requires slightly different preparation steps according to the surface condition. Thus, proper preparation relies on correctly identifying the galvanized surface condition, and then following the appropriate cleaning and profiling steps to achieve optimum bonding of the paint to the hot-dip galvanized steel.
The different surface conditions have to do with the development of the zinc patina (weathering/passivation). As the HDG surface weathers, different compounds are on the surface which require different cleaning/profiling steps. It is important for the galvanizer to KNOW you intend to duplex – so he can avoid post-treatments that can hinder the bond of the top coating to the galvanized surface.
Zinc Patina Formation
The hot-dip galvanized coating is formed when the iron in the steel reacts with the zinc in the galvanizing kettle. This metallurgical reaction is a diffusion process, creating a growth of intermetallic layers perpendicular to the steel surface. Zinc, like all metals, begins to corrode when exposed to the atmosphere. As galvanized coatings are exposed to both moisture and free flowing air, corrosion by-products will naturally form on the coating surface, called the Zinc Patina. The formation of these by-products (zinc oxide, zinc hydroxide, and zinc carbonate) occurs during natural wet and dry cycles in the environment.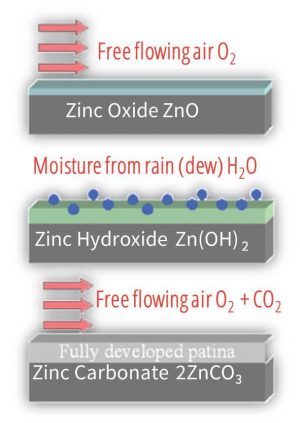 The rate of zinc compound formation is determined by a number of variables, including the amount of time since the part was withdrawn from the kettle, the temperature of the part, and the humidity in the atmosphere. Identifying the state of the zinc patina formation will dictate what cleaning/profiling steps are required, and what surface condition (as found in the specs) you should follow.
For detailed instruction on preparing the surface, refer to ASTM D6386: Practice for Preparation of Zinc (Hot-Dip Galvanized) Coated Iron and Steel Product and Hardware Surfaces for Painting OR ASTM D7803: Practice for Preparation of Zinc (Hot-Dip Galvanized) Coated Iron and Steel Product and Hardware Surfaces for Powder Coating.