Speed of Construction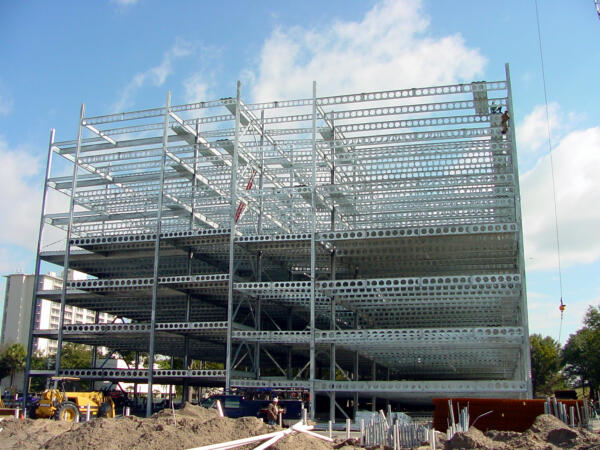 The quickest route to a fully utilized parking garage is the fast erection time and quick turnover provided by a hot-dip galvanized steel framing system. Several elements contribute to a steel framed structure scoring the fastest erection time compared to other systems. Steel beams are fabricated offsite and delivered to the site ready for construction. Because steel members have a high strength-to-weight ratio, these pieces prove more maneuverable onsite.
Smaller parts mean the elements arrive onsite quickly without the difficulties or delays posed by locations with limited delivery/construction access. They slip onsite, ready to be swooped up and rapidly, efficiently placed by a crane.
The hot-dip galvanizing process works swiftly and seamlessly into the assembly progression. After the steel members are fabricated, they are sent to the galvanizing plant. As the galvanizing process is completed at an indoor facility, there are no hindrances due to inclement weather the pieces are in and out of the galvanizing plant, then promptly delivered to the site. With the swift turnover of these elements, builders are measuring completion times in weeks, not months.
Speedy erection of the structure saves time and money - not only providing the savings benefits associated with fast turnaround time, but also putting the facility into use more quickly.
Case Study:
Liberty Place Parking Garage, Columbus, OH, 2013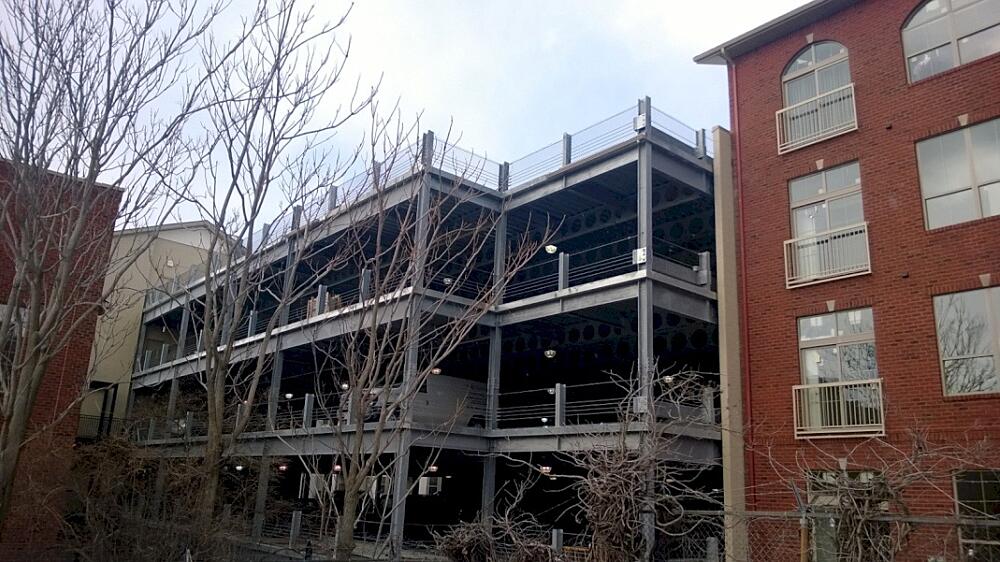 The developer of the new Liberty Place Apartments in the heart of Columbus, Ohio's Brewery district was seeking an economical, long lasting solution for the parking problem surrounding their project. The quick erection of steel, combined with the long life of hot-dip galvanizing gave Liberty Place developers the best of both worlds.
Needing to fit the garage into a relatively tight space, but maximize capacity, using hot-dip galvanized steel on the columns allowed for thinner and fewer columns – leading to increased spaces per floor, and castellated beams and trusses allowed for more open air and light for improved safety and sight lines.