Planning for the Future
Not only does a smaller, stronger steel framing system support more design options in the conceptual and construction stages, it also sets the stage for future growth or adaptation. A lean, sturdy steel frame is the ideal setup for expansion.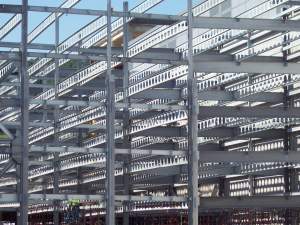 As the American Institute of Steel Construction (AISC) states in Open Deck Parking Structures, vertical expansion can be easily accomplished in a steel-framed structure through the splicing of existing columns and the placement of steel members with readily available cranes.1 The most flexible option for vertical development, additional steel framing will couple easily with the original design to support the weight of new parking tiers.
Additionally, expansion of a steel frame will have less impact on the day-to-day functionality of the garage. Often times, only the top-most parking tier needs to be taken out of commission to facilitate the upward growth of the structure. With procedures that will not take the entire garage out of commission for updating or expansion, a hot-dip galvanized steel frame will unlock new possibilities for the future.
Featured in Modern Steel Construction, the West Virginia University Medical School Garage was in desperate need of expansion. With real estate at a premium and the demand for parking growing quickly, it was essential for the hospital to maximize the capacity of its existing parking garage.3 Engineers incorporated a steel framing retrofit system to accommodate vertical expansion for the structure. The garage was able to maintain functionality through the entire process, and is now more spacious than ever.
Expansion Case Study
West Virginia University Medical School- Morgantown, WV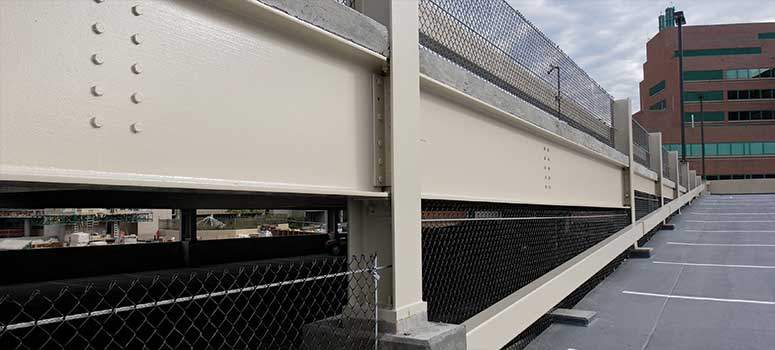 Thanks to a burgeoning response to the Medical School's state-of-the-art cancer treatment programs, the West Virginia University Medical School was desperately in need of expansion to house new visitors. Because of the structure's location, horizontal expansion was not an option – the only way to grow was upward.
To accommodate the vertical expansion, a hybrid construction strategy was implemented. The hybrid would directly link support of a new steel-framed, cast-in-place concrete post-tensioned deck to the existing foundation, and would not place additional stress on the precast columns already in place in the center of the garage. It would also minimize the overall weight of the additional deck and provide a framework to mount and secure a series of precast panels.3 By welding and bolting the new elements into place, the garage grew vertically.
With procedures that would not take the entire garage out of commission, the garage was able to stay open and functional throughout the expansion. One month prior to completion, cars were allowed to park on all but the top level of the newly expanded garage.3 Using steel for upward expansion was a successful solution for adapting this garage.
1 American Institute of Steel Construction (AISC). Innovative Solutions in Steel: Open-Deck Parking Structures.2003.
3 Tsupros, Len. "Taking it to the Next Level," Modern Steel Construction, April 2008.