Savings in Use
One of the primary advantages of utilizing hot-dip galvanized steel elements for an exposed core frame structure is the durable corrosion protection provided by a coating that will withstand the effects of time, damage, and weather. Contrarily, framing competitors such as concrete can easily crack and spall, spelling costly maintenance throughout the life of a garage. Using paint for corrosion protection will rack up similar expenses, as paint coatings require regular, continuous touch-ups and maintenance.
Extended Time to First Maintenance
As referenced in "What is Hot-Dip Galvanizing?" earlier, what makes galvanized steel notable is the extended time-to-first maintenance; in many cases, up to 70 years without maintenance. The chart below shows the time to first maintenance of hot-dip galvanized coatings in five environments – rural, suburban, temperate marine, tropical marine, and industrial. A parking garage located in an industrial environment faces extremely corrosive elements; with a 4 mil HDG zinc coating, even in the worst environment, the structure will be protected from corrosion for 70 years or more – essentially the working life of the structure.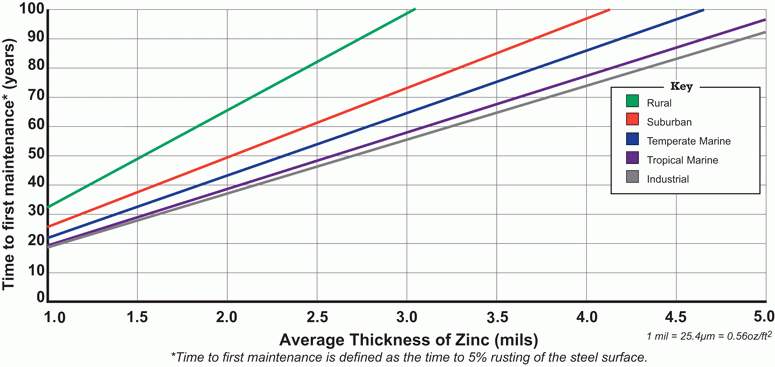 HDG vs. Paint Costs
The metallurgical reaction created during the galvanizing process results in HDG steel having superior bond strength compared to other protective coatings, such as paint. While paint has a limited bond strength of only 300-600 psi, the metallurgical bond strength of HDG is an impressive 3,600 psi. This means when paint begins to crack and peel, the zinc coating of HDG steel will not only require no repair or maintenance but also remain as strong as the day it emerged from the zinc bath. Paint requires continuous maintenance throughout the life of the project – the costs keep adding up with each required touch-up or complete maintenance repainting. Meanwhile, galvanized steel stands corrosion, maintenance, and cost-free for generations.
Reduced Indirect Costs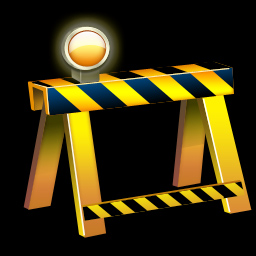 With HDG steel structures, clients are also spared the indirect costs of loss of functionality for maintenance or repair shutdowns; because of the extensive time to first maintenance, there is no need to shut down garage operation to allow time or space for routine paint touch-ups. Additionally, clients will be able to avoid total shutdowns for restructuring due to concrete issues. The maintenance-free nature of hot-dip galvanized steel will save indirect costs associated with time wasted searching for parking elsewhere, or worse – sales lost from visitors who will not even venture out due to the negative prospect of dealing with the inconvenience of an immobilized parking garage.