Economic Savings
While everyone loves a striking, well-designed, functional piece of architecture, specification is often determined by the bottom line. To be sustainable, designers should look to a product with a bottom line that not only suits the needs and abilities of the client but also keeps an eye to future expenses and effects. This is an area where hot-dip galvanized steel stands a head above the rest. By specifying HDG steel, the client will benefit from a trifecta of savings - economical construction, affordable functionality, and lower life-cycle cost.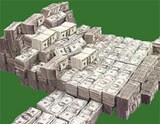 Affordable construction and transportation savings, in addition to savings created by quick turnaround, meaning the initial price tag for construction is lower than competitors. Because HDG steel often requires no maintenance for 70+ years, costs in use are kept to a bare minimum - clients will even save on the electric bill!
The real savings, however, are indicated by taking into account the life-cycle cost of the project. Structural engineers and others who have studied life-cycle costs conclude steel framed structures are usually less expensive over the life of the project.4 As HDG steel can save double or more over the life of the structure, the sustainable choice for economic savings is clear.
4 Englot, J. and Davidson, R. Steel-Framed Parking Garages Take Off at JFK and Newark International Airports.Modern Steel Construction. April 2001.