Appearance
When approaching the materials and design of a parking garage, specifiers should examine how the new structure will affect the surrounding community, both immediately as well as into the future. A critical element of sustainable design, social benefits must be addressed in conjunction with the planning of a structure's function.
The client and community need a structure that services many needs – the project must be an attractive, well designed, economical, and structurally sound product that will provide users with seamless service and functionality, as well as be a source of pride for the community. Using hot-dip galvanized steel as the core frame of a new parking garage, designers can address these needs by providing the following benefits.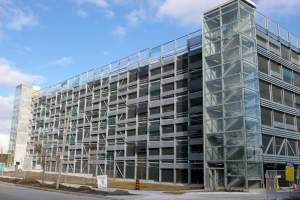 Attractive Façade Options
Incorporating hot-dip galvanized steel into a structure can unlock a wide canvas of aesthetic possibilities affecting both beauty and functionality. A parking garage is often the first impression a visitor encounters when approaching a building – a gateway accompaniment to the flagship structure. Not limited by the weight and constraints of concrete exteriors, steel façade elements can take on a variety of appearances. Features such as streamlined steel cable supports; sleek, modern railings; elaborate decorative paneling, and more can all be incorporated to complement the structure of the facility.

Hot-dip galvanized steel will support these complementary features by protecting them from unsightly rust stains and streaks. As the aforementioned features will be constantly exposed to the damaging effects of sun, wind, water, and industrial pollution, a natural, attractive corrosion protection system must be implemented. The cool metallic sheen of galvanized steel is a desirable look itself, but the system is also proven to keep the unattractive effects of corrosion at bay for 70+ years. This keeps exposed elements, particularly façades, looking their best for generations to come.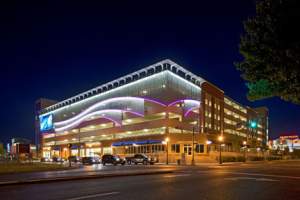 Flexible Steel Shapes
Not only can a wide array of designs and façades be easily affixed to the core steel structure, the steel itself can be arched and bent into striking shapes. One obvious place to take advantage of this flexibility is in the exterior façade. Bending and curving the steel to look like waves, concave and convex, or any other non linear shape you can imagine is possible.
In addition to the façade, the structural and other necessary elements such as staircases and canopies become part of the overall design and appeal of the structure. Galvanized steel allows for exceptional flexibility and styling to all of these typically boring elements, creating a striking welcome to all who enter.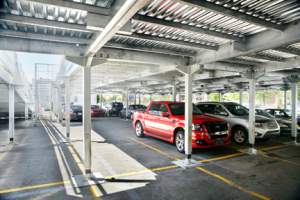 Open, Inviting
In addition to a beautiful exterior, an aesthetically pleasing, breezy interior also lends itself to increased functionality. Concrete structures often call for weighty interior shear walls to support the burden of lateral loads. Such a system leaves the garage feeling heavy and blocked in, like a cumbersome gray hedge maze visitors quickly seek to exit or even avoid altogether. Contrarily, use of light long-span steel beams means only small columns are required to get the job done. These slender vertical beams create more space so vehicles can maneuver throughout the structure with ease. Lean and strong, a steel core structure creates a well lit, open, and inviting garage.

Appearance Case Studies
The following projects highlight the versatile appearance options available when using hot-dip galvanized steel.
Arizona State University Parking Garages- Scottsdale, AZ, 2004

Hot-dip galvanized steel was used in this parking garage for its aesthetic appeal and also to protect the automobiles from UV rays and other elements in Arizona. The exposed parking canopy, spiral staircase, façade supports, and other elements of this garage are fit for center stage – galvanized steel allowed for exceptional styling of these typically boring elements, creating a striking welcome to all who enter.
The project contains many different HDG pieces including the parking canopy, columns and beams for the skin structure, crash barrier, and guard rails totaling 300,000 pounds of steel.
The project designer spent time with the galvanizer to learn more about hot-dip galvanizing in order to create details that worked well with the process, such as the steel framing from which to hang the stainless steel skin. The skin is used to help provide shade and protection from the elements for the parked vehicles. Using galvanized steel allowed the contractors to complete the project on time and under budget. In fact, the project was such a success, an expansion of the facility using galvanized steel is planned.
Charlotte Douglas International Airport Garage- Charlotte, NC, 2005

The Charlotte Douglas International Airport Parking Garage features a unique convex exterior façade reminiscent of the curvature of an airplane wing. With an average of 600 daily departures, CDIA is a rapidly growing airport in the southeastern United States.
As the passenger traffic has increased over the past few years, so has the demand for more parking. In late 2004, the airport began reconstruction to expand the 3,000-space parking facility's capacity by 13 percent. In 2009, an additional garage at the site was specified to incorporate galvanized steel, due to the success of the 2004 structure.
The designer wanted to break away from the normal square, concrete box structure of parking facilities, and envisioned a facility that would mirror the curvature of an airplane wing.
In order to accomplish this design, the architect and engineer decided to attach stainless steel cladding to a galvanized structural steel frame. Three hundred tons of hot-dip galvanized steel was used in the project including bow-string trusses, embed plates and anchors, stair towers, stairways, hand rails, and castellated beams. Galvanized steel was specified for its exceptional maintenance-free service life.
By specifying a hot-dip galvanized coating instead of a paint system, the garage will not require costly maintenance. Furthermore, the galvanized coating will allow the structure to remain a corrosion-free, attractive piece of the airport landscape well into the future.