Testing Galvanized Rebar
In addition to visual and coating thickness inspection, different properties and characteristics of hot-dip galvanized rebar may be tested. These tests may need to be performed on specific lots of steel to ensure they meet relevant standards, or on trial lots before they are put into end-use. Accredited labs experienced with the individual test procedures should perform these tests.
Bond Strength Test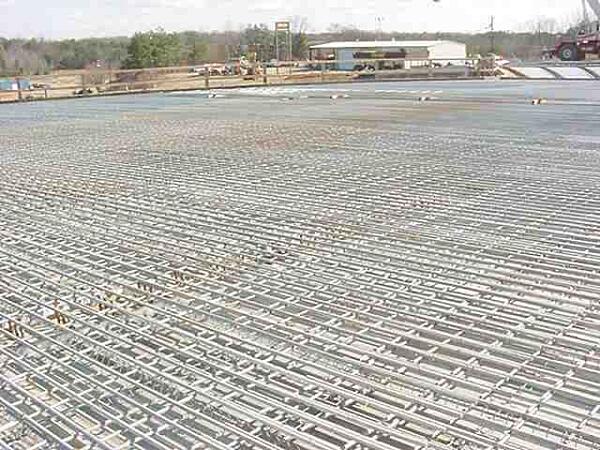 The bond of the hot-dip galvanized reinforcing bar to the concrete can be tested according to ASTM A944, Test Methods for Comparing Bond Strength of Steel Reinforcing Bars to Concrete Using Beam-End Specimens. The bond strength relies heavily on the deformation of the bar and not as much on the actual bond between the zinc and the concrete. For plain bars with no deformation, the bond between the zinc and the concrete becomes very important. Pullout strength of hot-dip galvanized reinforcing steel has been tested many times, and the values of bond strength are equivalent to, or better than, black steel bond strength.
Chromate Finish Test
If chromate coating is required, the existence of chromates may be verified using the method described in ASTM B201, Practice for Testing Chromate Coatings on Zinc and Cadmium Surfaces. Because chromate conversion coatings will weather away fairly quickly, bars chromated after galvanizing may exhibit no chromate by the time they are embedded in concrete. The formation of zinc carbonate patina on the bar will begin as the chromate weathers away and serves the same purpose as chromates to prevent the formation of hydrogen during concrete curing.
Embrittlement Test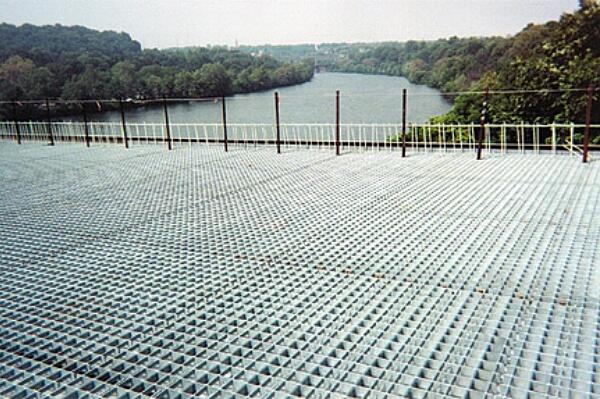 Higher strength bars that have had considerable cold working may be susceptible to embrittlement during the galvanizing process. Guidelines for fabricating bars to be hot-dip galvanized are provided in ASTM A143, Safeguarding Against Embrittlement of Hot-Dip Galvanized Structural Steel Products and Procedure for Detecting Embrittlement, and ASTM A767. When embrittlement is suspected, ASTM A143 designates the appropriate test method to determine the presence of embrittlement.
Accelerated Aging Test
Efforts have been made in many zinc-coated steel applications to develop the correct test method to determine a proper accelerated lifetime. The most commonly used accelerated corrosion test is ASTM B117, Practice for Operating Salt Spray (Fog) Apparatus.
There is no long-term exposure correlation between salt-spray testing and galvanized rebar field performance. Salt spray tests cannot accurately test zinc-coated steel because they accelerate the wrong failure mechanisms. Without a proper wet/dry cycle, the zinc coating cannot form patina layers; the absence of a patina layer allows constant attack of the zinc metal and results in a short zinc coating lifetime.
Case Study
Autoroute 40 Reconstruction- Montreal, QC, 2014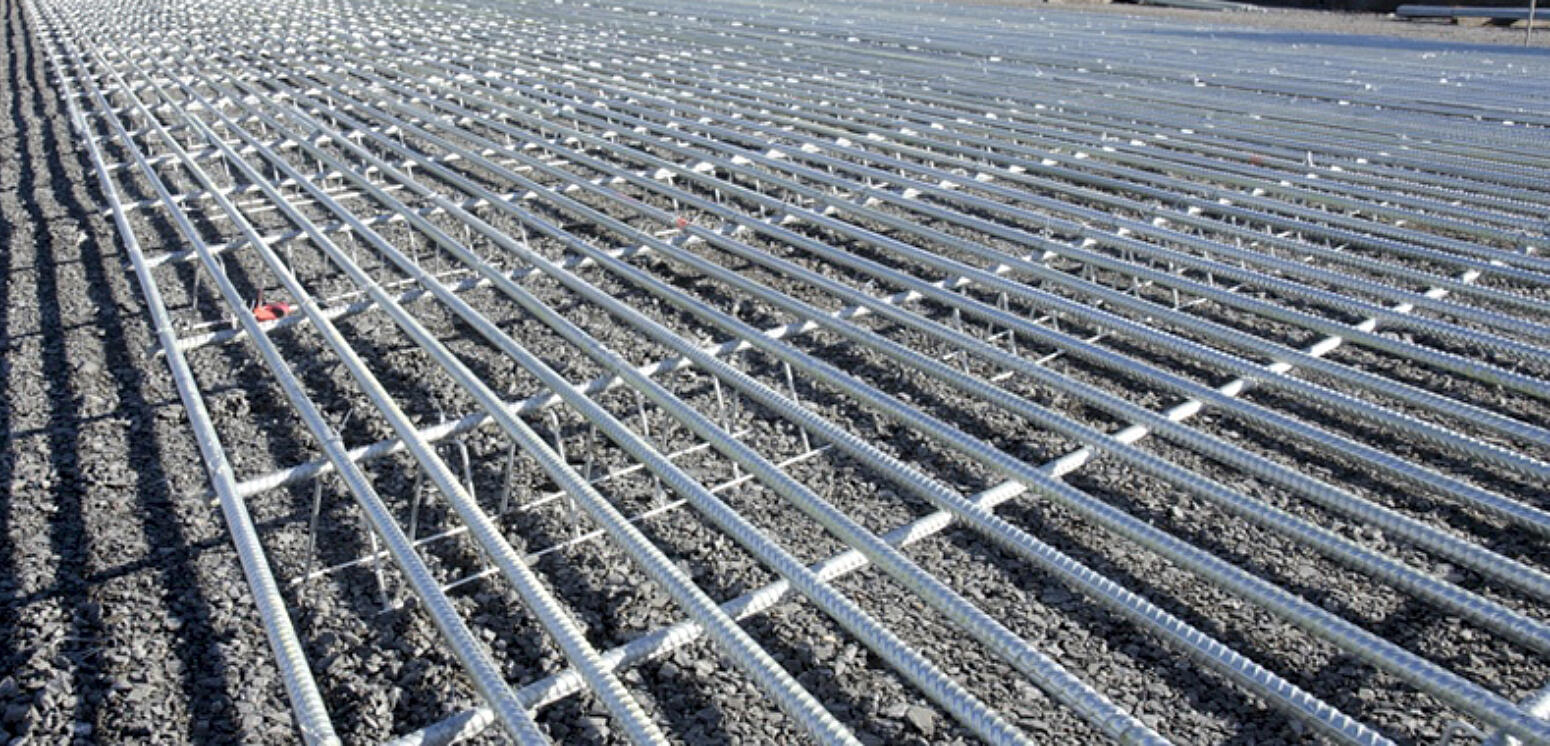 The Autoroute 40 (a six-lane Interstate-style highway) is the main East-West artery through the city of Montreal. Built for the most part in the 70's a major rebuilding project was launched a dozen years ago to replace the failing concrete roadbed and related structures. Ravaged by de-icing corrosion and very high traffic volume this highway suffered from the same environmental challenges faced by all highways in Quebec. In 2004 a section of the highway was rebuilt and the Quebec Ministry of Transport chose to perform a test. Based on the successful use of galvanized rebar for several years for concrete structures a decision was made to galvanize one direction of the new roadbed with epoxy coated rebar used in the opposing direction.
The exceptional performance of rebar in this application as well as bridges with HDG rebar dating to the 60's still free of corrosion led to the decision to galvanize all the rebar in this new 8 km section of highway. The corrosion caused expansion of steel rebar is the Achilles heel of concrete road construction, especially in areas where de-icing salt usage is widespread. Hot-dip galvanized steel rebar was a standout for its cost benefit ratio.
Epoxy coating has now been de-specified due to very poor performance and non-steel alternatives like stainless steel cost many times more than HDG and has no proven track record. Fiberglass rebar is also very expensive to manufacture, cannot be formed or modified on site and has very limited production capacity, it also does not have a proven track record. The advent of after galvanizing bendable HDG rebar has been the key to the success of rebar galvanizing in Quebec and hot-dip galvanizing is now specified for many high corrosion applications throughout our road infrastructure.