HDG & LEED
In 2013, the USGBC approved the LEED® v4 rating system, which was fully integrated in October 2016. The new system included a revamped Materials & Resources credit area that targets more transparency in materials to facilitate the selection of more sustainable building products. In the past, LEED® was more subjective and prescriptive, but the new v4 focuses on more objective measures to access the sustainability of a building.
In LEED® v4, the Materials are Resources credit category has moved away from single criterion such as recycled content, VOC levels, etc. to a comprehensive approach to evaluate the environmental impact of building materials. The new Building Product Disclosure and Optimization (BPDO) credits are directly related to material transparency and supply chain responsibility.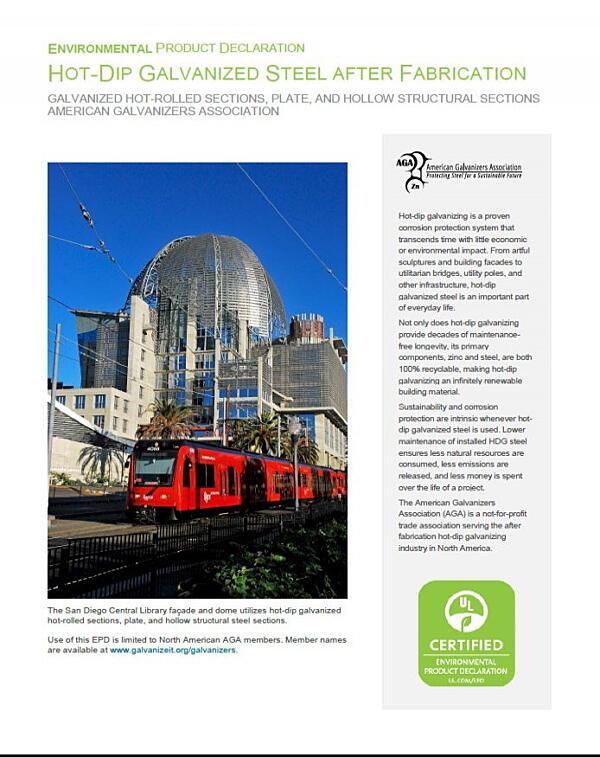 There are three main BPDO credits within the Materials and Resources area: Environmental Product Declarations (EPDs), Sourcing of Raw Materials, and Material Ingredients (Health Product Declarations (HPDs)). Each BPCO credit has one to three points available and require the project team to collect and submit information on at least 20 materials from five different manufacturers to achieve a point under Option 1.
The American Galvanizers Association (AGA) has published an industry-wide (generic) EPD for hot-dip galvanized steel including hot-rolled structural sections, plate, and hollow structural sections (HSS). According to the BPDO Credit for EPD, this industry-wide EPD can be submitted for one-half of a product. This EPD will be examined more closely in the next section.