Sustainability
Sustainable development is the social, economic, and environmental commitment to growth and development that meet the needs of the present without compromising the ability of future generations to meet their own needs. As the social pressure continues to mount to construct the built environment sustainably, specifiers are becoming more invested and analytical in the materials they choose. Hot-dip galvanized steel's maintenance-free longevity provides positive environmental and economic benefits to future generations.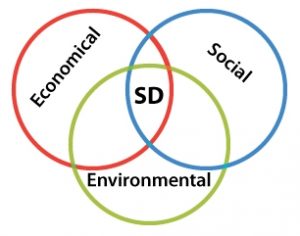 Environmental Advantages
As previously stated, zinc exists naturally in the air, water, and soil and is the 24th most abundant element in the Earth's crust. More than 5.8 million tons of zinc is naturally cycled through the environment by plant and animal life, rainfall, and other natural activity. And zinc is essential for all life – from humans to the smallest microorganisms. Therefore, utilizing hot-dip galvanized steel is not harmful to the environment as the zinc is already naturally found in the area. In addition to being natural, zinc, like steel, is infinitely recyclable without the loss of any physical or chemical properties. Approximately 30% of the world's zinc supply comes from recycled sources each year, and more would be recycled if it were available. Furthermore, steel is the most recycled material in the world with virtually 100% of structural steel coming from recycled sources, making galvanized steel an infinitely renewable material.
HDG & LEED®
Leadership in Energy and Environmental Design (LEED) is the leading rating system for a building's performance in the areas of economic return, environmental impact, and personal health. The hot-dip galvanizing process is not LEED rated, because processes and products are categorized as contributing to the overall LEED score for a building under construction or completed. LEED v4 was approved in 2013, but projects will be accepted in 2009 through October 2016, before v4 goes into full effect.
The main area where galvanizing contributes to LEED 2009 is due to the recycled content. HDG can always contribute 2 points in the key area of Materials & Resources Credit 4: Recycled Content for having more than 20% of the total value of the material coming from recycled sources. Additionally, because of the extremely high recycling rate of both zinc and steel, HDG can actually earn an "extra credit" point under Innovations in Design Credit 1: Path 2 Exemplary Performance because the recycled content actually exceeds 30%.
Hot-dip galvanizing may (on a job-by-job basis) be able to provide additional LEED 2009 points under MR Credit 5: Regional Materials, MR Credit 3: Materials Reuse, and ID Credit 1: Path 1 Innovation in Design and ID Credit 1: Path 2 Exemplary Performance.
However, the new LEED v4 (passed in 2013) is quite different than its previous versions. The USGBC is transitioning LEED from a prescriptive checklist to a more definitive measure of environmental impact from start to finish. The goal is more transparency in materials, so specifiers can make the best choices. The new version has a heavy focus on Environmental Product Declarations (EPDs) which detail the materials used in a building and their economic impact (such as an LCA). There also is a heavy emphasis on the supply chain – knowing not only what the final manufacturer did to the material, but where they acquire their base material, and how responsibly it is mined, etc. Finally, there is an opportunity for credit if the material you are using has a published material ingredient list, similar to what you see on food labels.
The AGA has completed an industry-wide EPD, which has been third-party verified and is published. Additionally, the AGA has developed and published two Health Product Declarations (HPDs) to meet the requirements for material Ingredient lists based on the type of zinc in the galvanizing kettle (high grade/special high grade or prime western).
Life-Cycle Assessment (LCA) of HDG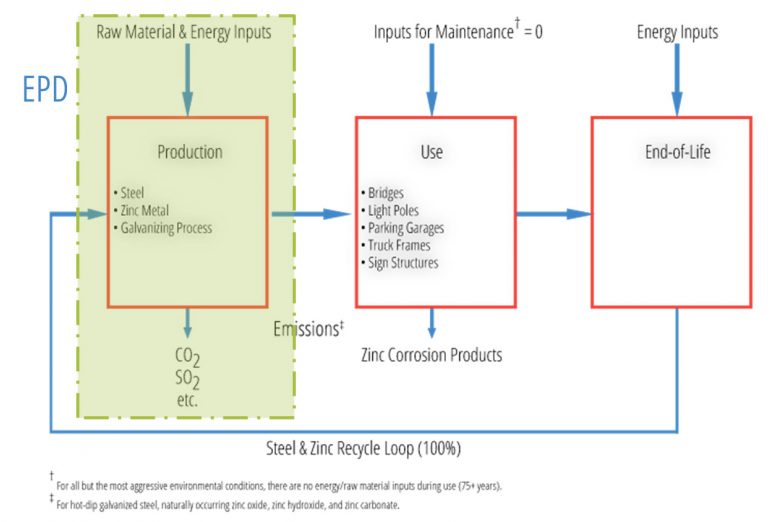 In 2008 the International Zinc Association (IZA) hired internationally renowned LCA experts Five Winds International and PE International (now thinkstep, Inc.) to conduct a life-cycle inventory (LCI) and life-cycle assessment (LCA) for hot-dip galvanized steel. Utilizing data from worldwide sources regarding energy consumption and air/fluid/solid emissions measured during zinc production and during the actual galvanizing process, combined with analogous survey data collected from the steel industry, an LCA for hot-dip galvanized steel was compiled. This graphic shows an overview of the impact of hot-dip galvanized steel from production to end-of-life.
Hot-dip galvanizing is unique in that all material and energy inputs and emission outputs are isolated to the production phase, as there is no maintenance required for 70 years or more in most environments, and it is 100% recyclable at the end-of-life. The AGA's publication Hot-Dip Galvanizing for Sustainable Design has more information on galvanized steel's sustainability, including the full LCA study.
Sustainability Case Study
Michigan M-102 Bridge Rail - Detroit, MI 2007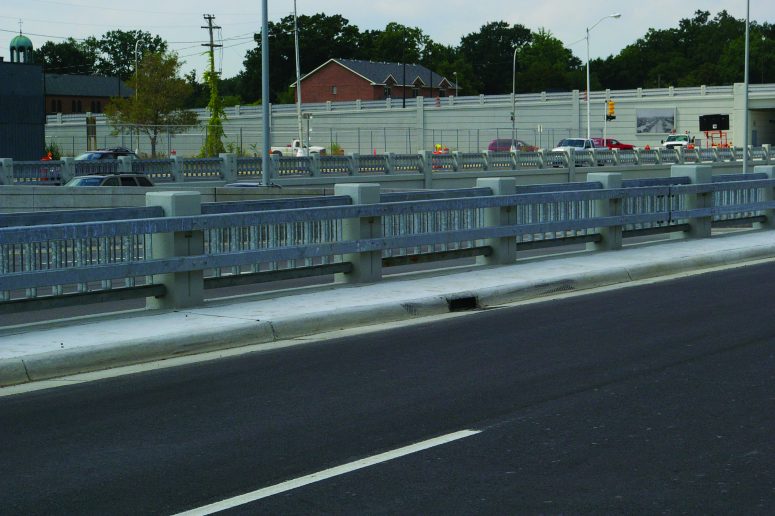 With the original steel guardrail panels galvanized back in 1955, the rails on the MI/M-102 Bridge and Rail Project were due for corrosion repair. Fortunately, because of the protection provided by the galvanized coating on the railing panels, highway traffic damaged only 15-20 percent of the more than 300 tons of steel that would need replacement in the repair. After attending an educational Galvanize It! seminar, Sue Datta of the Michigan Department of Transportation (MDOT) learned how many states have been taking old guardrail, stripping, regalvanizing, and returning it to service - so MDOT decided to regalvanize the existing steel guardrail panels.
MDOT felt recycling the existing steel was an excellent opportunity to contribute to the "Keep It Green" initiative being supported by the department. The state saved more than half of the budget earmarked for this project because they only had to replace 20 percent of the old material. The money saved on this project allowed MDOT to start the next project – one originally slated to begin in 2009.
The cost savings merely added to the original benefits of galvanizing this project – after 50 years of Michigan weather, traffic mishaps, road grime, and salts, the galvanized steel remained corrosion free. In addition to contributing to the "Keep It Green" effort, the new railings for this project will provided maintenance-free corrosion protection well into the future.