Aesthetics
Aesthetics are important to nearly every construction project. Whether an attractive, artfully designed sculpture or architecturally exposed steel element, or bridge, bus station, or other infrastructure element, galvanized steel offers design flexibility, and an attractive, natural gray finish – or if color is desired it can be easily painted or powder coated.
Modern, Natural Appearance
For some galvanized steel projects, such as electric substations, solar panels, or rail line infrastructure, the goal is often to blend seamlessly with the surroundings. As galvanized steel weathers and the zinc patina forms, the coating becomes a uniform matte gray. Whether in rural, wooded areas that are wildlife sensitive or in the city where non-reflectivity is important, the natural, non-intrusive finish of hot-dip galvanizing compliments and blends in with any environment.
In addition to providing a natural, blendable appearance, utilizing hot-dip galvanizing on architecturally exposed structural steel (AESS) provides visual peace of mind the steel is in good condition. AESS elements are often designed to be centerpieces and talking points of steel construction.
The high strength-to-weight ratio and ductility of steel allows for curves, arches, and intricate patterns and designs when planning AESS elements. However, when AESS elements are exposed to the atmosphere, it is important to ensure they remain beautiful design elements by protecting them against corrosion. Hot-dip galvanized AESS elements can fight corrosion for decades without stifling your design freedom.
Aesthetics Case Study
Harley Davidson Museum - Milwaukee, WI 2008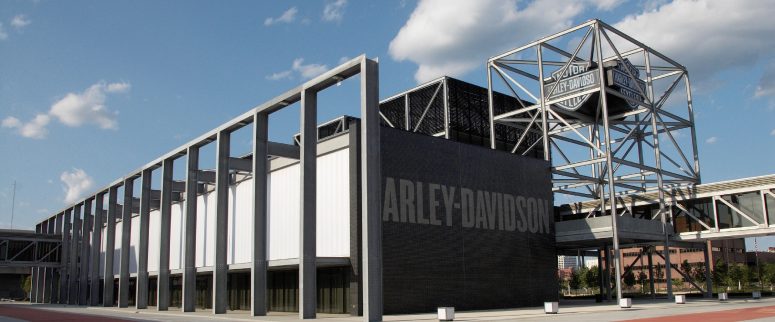 One can almost hear the ripping, throaty roar of a Harley Davidson motorcycle upon viewing the industrial, frank steel structure of the Harley Davidson Museum in Milwaukee. A steely, modern tribute to this American icon, the 130,000 square foot museum is located on the shores of the Menomonee River on a 20-acre reclaimed industrial site.
Rather than find a decorative skin for the buildings comprising the museum, the designers turned to the motorcycles themselves for inspiration. Durability, long-life, quality – hot-dip galvanized steel encompasses all of these ideals, making it the natural selection to serve as an honest representation of the elements of Harley Davidson engineering. The architecture of the museum reveals exposed I-beams, columns, gusset plates and cross bracing, all open to the harsh effects of sun, snow, and rain. Hot-dip galvanized steel will withstand these tough elements, providing maintenance-free protection from the damaging effects of corrosion, both structurally and aesthetically.
With 2.5 million pounds of steel galvanized, good communication between the designers, fabricator, and galvanizer resulted in a smooth process with a quality product. Quick turnover and enormous savings compared to rendering the same look with paint sweetened the deal, as well. Now, this $75 million galvanized structure will stand as a durable, corrosion-free homage to Harley Davidson history, culture, and engineering.
Duplex Systems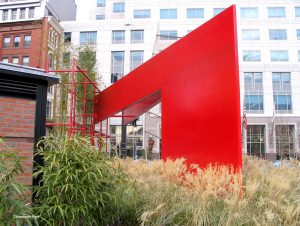 The natural, matte gray finish does not suit every project of every specifier – as sometimes color is preferred or needed for branding, safety marking, etc. However, by specifying a duplex system – galvanizing your project and then painting or powder coating over to the desired color ensures you don't have to sacrifice the corrosion protection benefits and extended maintenance of HDG steel.
Duplex systems provide more benefit than just aesthetic options. The combination of hot-dip galvanized steel and paint or powder coating provide a synergistic effect. The paint/powder extends the life of the coating by providing an additional barrier coating to the zinc layers, while the galvanized steel prolongs the life of the paint coating by preventing underfilm corrosion and peeling.
The result of the two coatings working in synergy is extended corrosion protection. The service life of a duplex system is 1.5 to 2.3 times the sum of the individual systems. For example, if the life of the galvanized coating in a particular environment is 70 years, and the expected life of the paint is 10 years, the expected life of the duplex system would be at least 120 years (1.5 x (70+10)).
This extended service life assumes no maintenance will be done to keep the paint or powder coating intact. Realistically, if someone invests the premium cost upfront for a duplex system, they likely plan to keep the color on the structure. So, in practical terms, the synergistic effect of utilizing a duplex system is the extended maintenance cycle it provides. With hot-dip galvanized steel as a "primer," the time to first maintenance of the paint or powder coating is extended 1.5 to 2.0 times what it would be for bare steel. The AGA's publication Duplex Systems: Painting Over Hot- Dip Galvanized Steel and instructional DVD guide Preparing Hot-Dip Galvanized Steel for Paint provide more information on specifying duplex systems.
Duplex Case Study
Center for Great Apes - Wauchula, FL 2010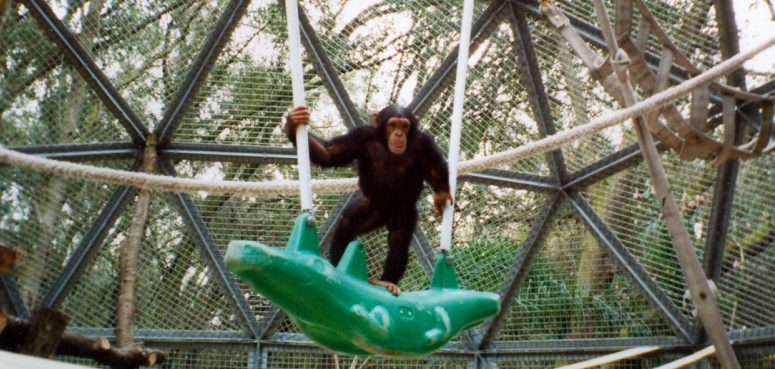 With a winding maze of chutes and walkways woven throughout the treetops, the Center for Great Apes is a charitable organization created to provide sanctuary for chimpanzees and orangutans that have retired from the entertainment industry, completed research, or formerly served as pets. After working in Borneo tracking and observing orangutans in 1984, Patti Ragan developed a passion for great apes. She had the vision and desire to provide long-term care and sanctuary for the animals, who can never be returned to the wild, and worked to develop an enjoyable, functional, and durable facility to achieve this goal. Ragan bought a tract of land in south central Florida and created a facility that would provide the animals with a habitat as close to natural as possible.
It was also necessary for the structure to be hardy and durable, as the apes will scratch, chew, and abuse any building material. The humid coastal environment, corrosive ape wastes, and continuous habitat cleanings also would provide extreme challenges for corrosion protection. A duplex system of paint over hot-dip galvanized steel was the ideal solution to meet all of these needs. For the Center, Ragan wished to paint the project in shades of green and brown in order to help the structures blend with the natural environment, without sacrificing the long-lasting, maintenance-free durability provided by galvanized steel.
The habitat areas are large domed or barn-shaped structures made of hot dip galvanized steel beam, angle, channel, and plate, with heavy wire mesh used to create the side panels. Inside the habitats you will find an assortment of toys and swings, where the apes spend their days playing, eating, and napping. There is a concrete night house equipped with hot dip galvanized steel cages where the apes go at night to sleep, as well as a veterinary clinic on site. The clinic, night house, and all habitats are connected by a system of chutes and walkways elevated 10 – 15 feet above the ground to give the apes the feeling of traveling through the trees. These chutes and walkways are also made of hot dip galvanized steel angle, channel, and mesh. They have tracks made of galvanized flat bar welded down the lower inside portion of the walkways in order to give the apes a smooth surface for walking.
Now home to more than 40 great apes, the Center will serve as a sanctuary for the life of its inhabitants. The duplex system of paint over hot-dip galvanized steel means the structure will stand strong and maintenance-free against corrosive moisture and waste, and general wear-and-tear from the apes. Galvanized steel will allow Ragan to achieve her dream of an efficient, safe, and happy home for these retired animals.