Steel: Strong & Sustainable
Steel is a proven durable and efficient building material that has been used since the Industrial Revolution. It is cost effective, aesthetically pleasing, sustainable, and strong. If it has one weakness, it is the fact it corrodes when exposed to the atmosphere; therefore, it is important to consider corrosion protection methods when constructing projects with exposed steel.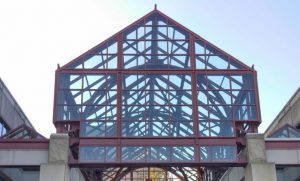 High Strength
Design Freedom
Speed of Construction
Lower Project Costs
Aesthetics
Efficient
Sustainable
Readily Available
Conquering Corrosion
Though steel is an excellent building material, as previously mentioned, when exposed to the atmosphere, corrosion will occur. Corrosion is a considerable concern as the annual costs are staggering (3% of the GDP in US/Canada) and $2.2 Trillion USD worldwide each year. However, the cost of corrosion is much greater than just financial, it can also lead to waste of natural resources, hazardous failures, and many other indirect costs. Corrosion is a natural phenomenon which can never be completely eliminated; however, it is a misconception nothing can be done. Employing adequate corrosion protection systems at the start of a project, such as hot-dip galvanizing, can significantly reduce these annual costs.
The fact steel corrodes when exposed to the atmosphere should not be a deterrent to utilizing the material. In fact, all construction materials deteriorate when exposed to elements in the environment including concrete, wood, etc. The difference is steel is a little more upfront about it, thus the general public thinks it is an unsolvable issue. Though it is a natural phenomenon, and thus, can never be completely eliminated, there are measures that can be employed to reduce the amount of corrosion and the costs associated with it. By showing where the weaknesses lie on the outside, rather than hiding them until the problem is magnified, steel openly shows where to make improvements and focus your attention for proper repair. However, the best way to conquer corrosion is NOT to change materials, but rather to provide the steel with a protective coating to combat the issue. Not all protective coatings are created equally, as they differ in cost, performance, sustainability, durability, etc. But there is one coating, which has been around for more than 150 years, providing proven real world performance combating corrosion for decades - hot-dip galvanizing.
Increased Taxes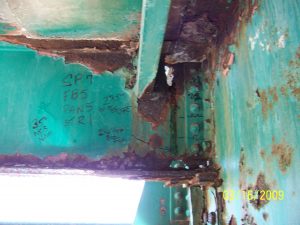 According to recent studies, the direct cost of metallic corrosion worldwide is $2.2 trillion US dollars annually, while in the US it is estimated at approximately 3% of the GDP. The US GDP was $14.12 Trillion in 2009, making the corrosion price tag $423 Billion annually. However, this is only the direct cost of corrosion, there are also indirect costs to consider (losses to businesses, detours, etc), which can be up to 11 times greater than direct costs. By extending the life and durability of steel, not only will capital investments be less, but taxpayer's money will be spent more wisely. When you design and specify for corrosion protection, dont think only of initial costs, but also consider life-cycle costs.
Natural Resources
Corrosion, if unchecked, contributes to waste, with dramatic environmental implications through process and plant failure. Further, the increased energy implications in replacing corroded structures are very significant in both financial and environmental terms. Specifiers must design and specify for the longest product life possible. By doing this, your project will not need to be replaced or rehabilitated as frequently. Early project failures require unnecessary consumption of natural resources. By protecting steel against corrosion, resources such as iron ore and energy will be saved.
Hazardous
Corrosion control and public safety go hand-in-hand. For example, corrosion is one of the leading causes of pipeline accidents in the world. When a pipeline fails, the results can be devastating in terms of loss of life, property damage, and environmental contamination.
Public Outcry
The public outcry and inconvenience is the verbalization of many indirect costs. For example, during renovation of the Williamsburg Bridge, the New York City Department of Transportation had to completely close it to traffic for seven months due to its deteriorated condition. Inspections at that time found 30 areas of major corrosion in the structure. At first is was decided to entirely replace the debilitated bridge, but building a new bridge in a different location would negatively impact businesses located near the Williamsburg Bridge. Replacing the bridge would have caused this main artery for vehicles to be closed for many more months. Already, the seven-month closure caused public infuriation.
Galvanized Steel Case Study
San Diego Central Library- San Diego, CA, 2013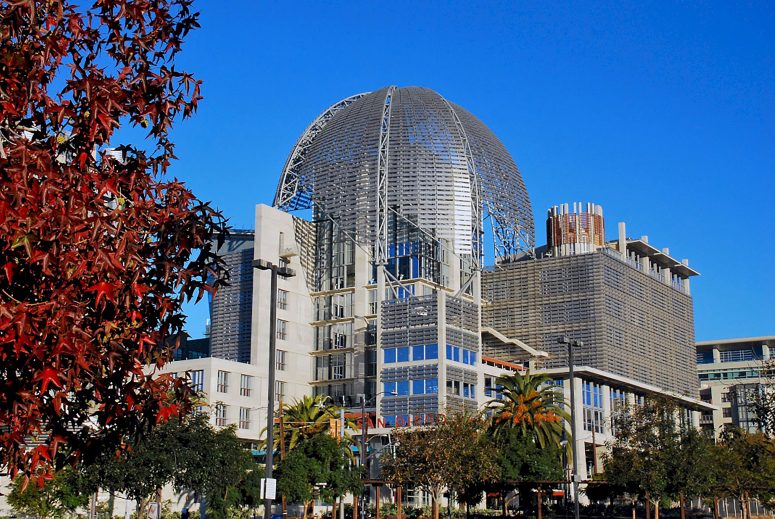 San Diego's Central Library opened its doors to the general public on September 28, 2013. The $184.9 million facility is located in downtown's East Village with beautiful views across the bay to Coronado Island. Completion of the new library was much anticipated and gained overwhelming community support for construction of the project. The dome structure has become a proud architectural achievement for the city.
Galvanizing the project proved to be a challenge requiring two separate galvanizing plants with different kettle dimensions to accommodate the mammoth arched frame structures. The largest frames in the project were progressive dipped with various pieces even requiring a third pass through the kettle to ensure total zinc coverage.
Hot-dip galvanized steel is prominently displayed on both the interior and exterior of this structure, adding a final appearance of character and distinction to the librarys hip, ultramodern aesthetics. The hot-dip galvanizing industry is proud and humbled to play such an essential role in providing this new downtown landmark to what has been nicknamed America's Finest City.