Specifying Batch Hot-Dip Galvanized AESS
The ASTM specifications that govern hot-dip galvanizing were written to ensure consistent, long-term corrosion protection. Therefore, meeting the specification requirements can be achieved without maximizing the appearance of the coating. When using HDG steel for AESS elements, there are important design details in supporting specifications and the AESS category system in the AISC Code of Standard Practice that should be followed to improve the HDG finish.
ASTM standards used to specify hot-dip galvanized steel:
ASTM A123 Standard Specification for Zinc (Hot-Dip Galvanized) Coatings on Iron and Steel Products
ASTM A153 Standard Specification for Zinc Coating (Hot-Dip) on Iron and
Hardware Supporting ASTM specifications contain best practices for design and fabrication as well as general quality and repair:
ASTM A143 Practice for Safeguarding Against Embrittlement of Hot-Dip Galvanized Structural Steel Products and Procedure for Detecting Embrittlement
ASTM A384 Practice for Safeguarding Against Warpage and Distortion During Hot-Dip Galvanizing of Steel Assemblies
ASTM A385 Practice for Providing High-Quality Zinc Coatings (Hot-Dip)
ASTM A780 Practice for Repair of Damaged and Uncoated Areas of Hot-Dip Galvanized Coatings
When utilizing hot-dip galvanized steel in AESS projects, additional requirements beyond these specifications are necessary both before and after galvanizing to meet the aesthetic requirements for each AESS category. The majority of products galvanized to these standards do not require heightened aesthetics; therefore, the presence of unattractive surface conditions are allowed as long as they do not affect the corrosion resistance of the coating or intended use of the product. To maximize hot-dip galvanized appearance for AESS a combination of these ASTM standards and specific AESS practices are necessary.
Using the AESS C Category
The AESS categorical system was developed to provide clear expectations between the specifier and the fabricator to achieve the desired architectural finish. However, the requirements defined in the AISC/CISC categories (1, 2, 3, 4) do not address all the nuances of hot-dip galvanized coatings. Some practices required for each of these categories will have little to no effect on the initial galvanized coating appearance, whereas other, additional practices can greatly improve it (Figure 4). For example, the nature of the galvanizing process can result in aesthetic limitations in overall uniformity, smoothness, coating repairs, and the contouring and blending of mill markings, welds, and seams. These topics are discussed in the Best Design Practices section of this publication.
To define both practical exemptions and additional requirements necessary to achieve an equivalent aesthetic for each AESS category, it is recommended to use the Custom (AESS C) category. A modified AESS Category Matrix Table for HDG (Table 1) is provided as a guide and is modeled after the AISC/CISC AESS Category Matrix. The use of AESS C is not limited to these practices, but those noted using an "x" are highly recommended to maximize HDG appearance. Responsibility for each category characteristic in Table 1 shall be mutually determined by the galvanizer, fabricator, and erector prior to fabrication.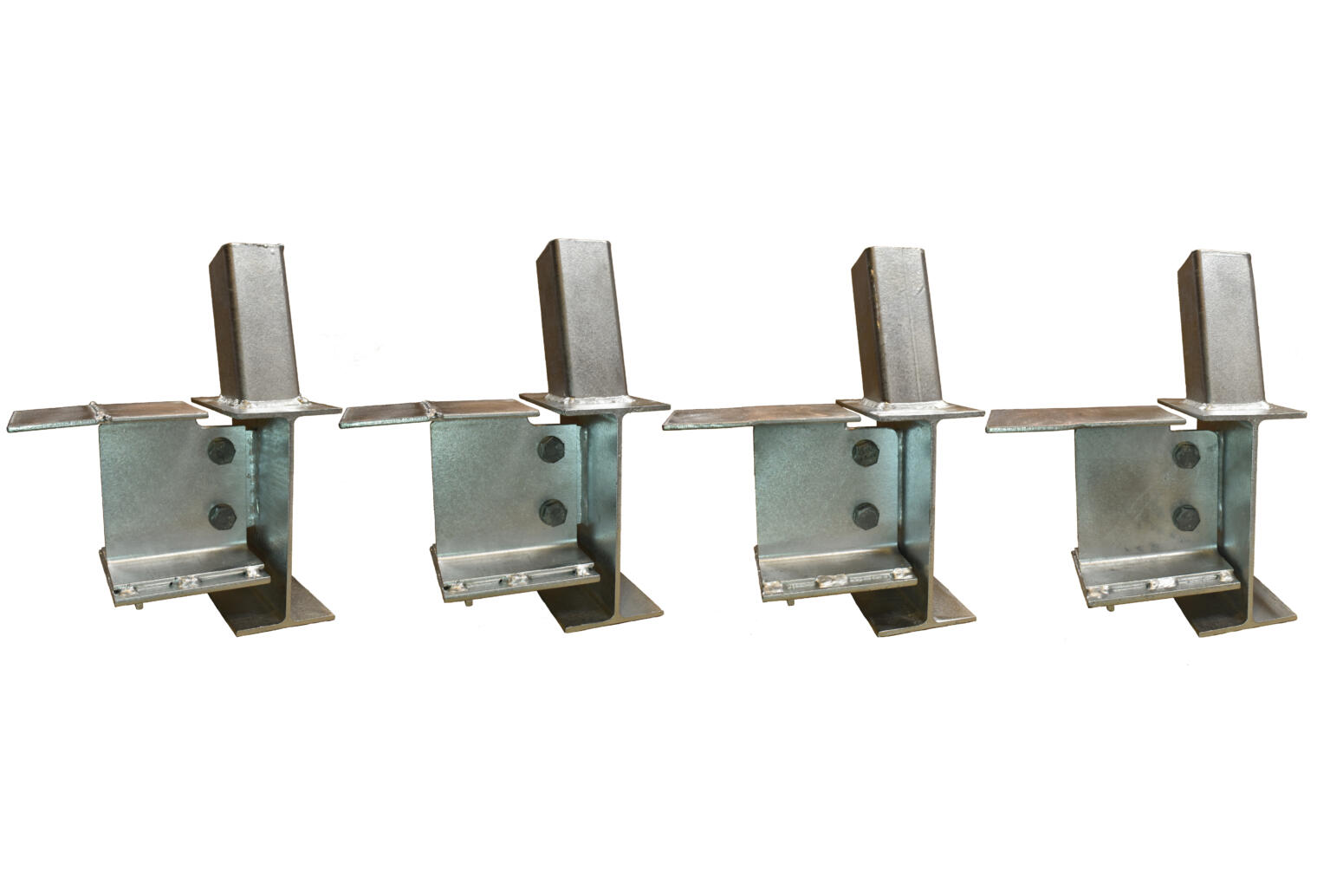 Limitations to Batch HDG Visual Samples or Mockups
Visual samples are useful to determine whether the galvanizer and fabricator are capable of providing a galvanized part with suitable corrosion protection, smoothness, installation tolerances and overall quality. However, it is impractical to expect an aesthetic finish which exactly matches the sample for all the pieces galvanized in a project. It can be common to galvanize identical pieces which result in different finishes or overall appearance. Furthermore, the amount of detailing or smoothing required to bring the galvanized sample to the aesthetics requirements determined by each AESS category may not be representative of the amount of detailing or smoothing required for the final parts.
When requesting a visual sample, it is important to consider varieties of initial appearances and natural weathering of the galvanized coating so that realistic aesthetic criteria are established for the project.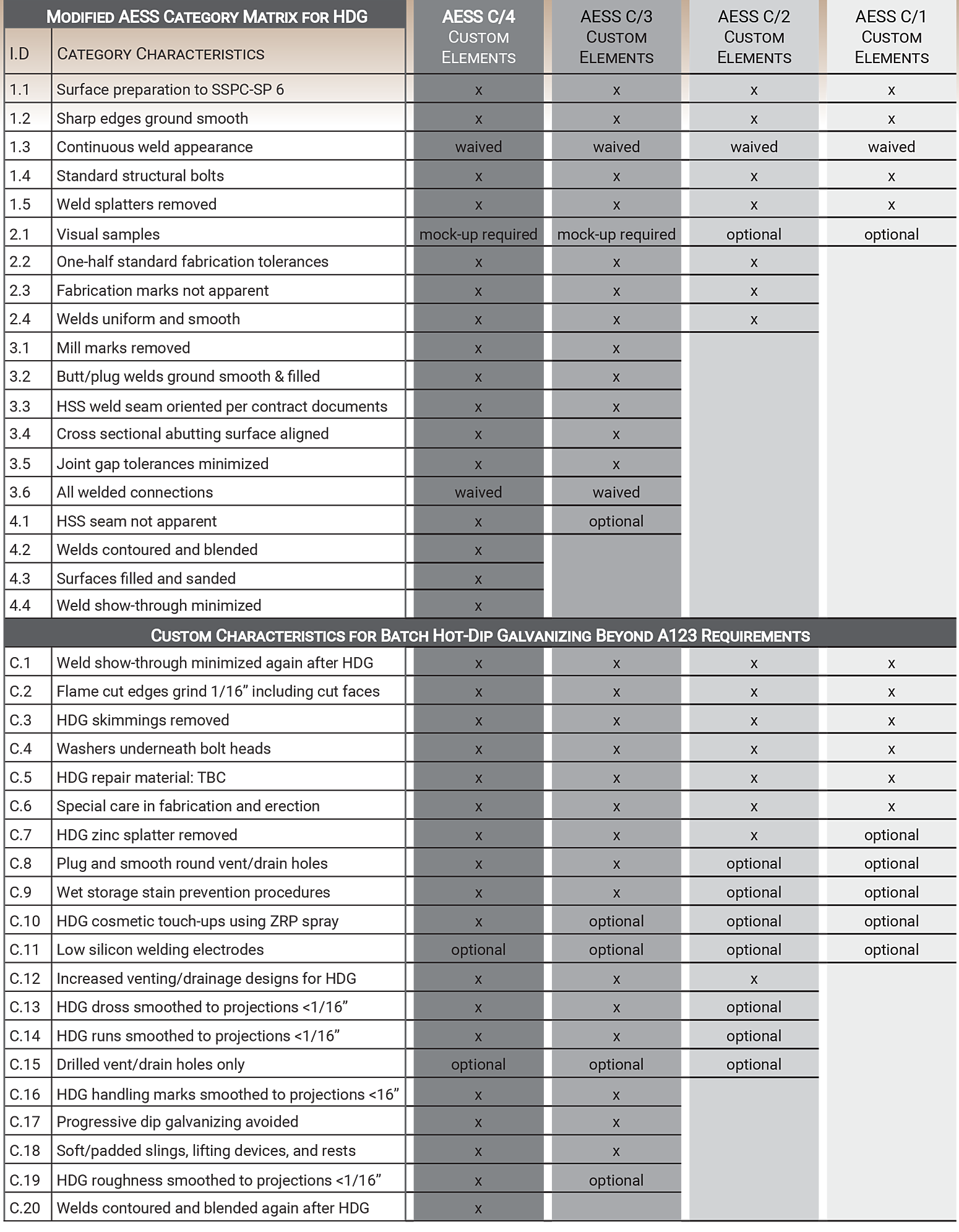 Commercial Blast Cleaning Before HDG
The specification of commercial blast cleaning (SSPC-SP 6/NACE No. 3) is primarily specified to roughen the steel surface before HDG and not to provide a specific degree of cleaning. This practice is necessary to achieve the elevated aesthetic quality expected for each AESS category because it promotes a more uniform initial appearance among variations in steel surface chemistry, minimizes the formation of excessively thick HDG coatings, and minimizes the formation of brittle coatings prone to delamination.
Surface Smoothing After HDG
The initial appearance of the galvanized coating cannot be altered and some variation in appearance is to be expected. However, many natural and common surface conditions can be reasonably ground, sanded or filed to minimize their appearance, improve uniformity, and achieve the desired aesthetics for featured or showcase elements. Though some of these surface conditions may not require removal for basic elements (AESS Category 1), the examples in Figure 5 are provided for guidance within the modified AESS Custom category matrix for HDG to address aesthetics above and beyond ASTM requirements and established AESS category requirements.