Post Galvanizing Concerns
There are a few areas of concern after galvanizing to be aware of that may impact the aesthetics of the part. At times following hot-dip galvanizing, there is a need for small areas of touch-up or repair in the plant or field. Repairs are performed in accordance with ASTM A780 Standard Practice for Repair of Damaged and Uncoated Areas of Hot-Dip Galvanized Coatings; however, this specification does not address appearance of repair materials. Another area of concern is proper storage and handling during shipment and erection. The following sections detail specific areas of attention when maximizing appearance for AESS projects.
Repair Material Selection
In the event small voids or defects in the coating occur during the galvanizing process or damage occurs during handling of the steel after galvanizing, ASTM A780 describes three acceptable methods to touch-up or repair hot-dip galvanized coatings:
zinc-based solder
zinc-rich paint
thermal spray zinc (zinc metallizing)
Should the hot-dip galvanized coating need to be repaired at the galvanizing facility or at the job site, it is possible to specify a repair method for maximum aesthetics (Figure 13). Zinc-based solders and zinc-spray metallizing more closely match the appearance of hot-dip galvanized steel, but there are limitations to applying both materials which must be considered in addition to cost.
Zinc-rich paints can economically provide suitable aesthetics if a matte gray or weathered color repair paint is utilized. Although the initial appearance may contain a mixture of matte gray paint and shiny hot-dip galvanizing, exterior AESS members will weather and more closely match the repair paint over time. The use of a shiny or silver repair paint will result in a permanent mixed appearance upon natural weathering of the galvanizing. To assist specifiers, the AGA website contains a directory of hot-dip galvanizing repair material suppliers and instructional videos on touch-up and repair.
Occasionally, cosmetic repairs are required to address aesthetic concerns where the galvanizing is not compromised and localized removal of the coating is not advised to perform a repair. In such cases, a spray-applied zinc-rich paint may be specified to provide the desired aesthetics.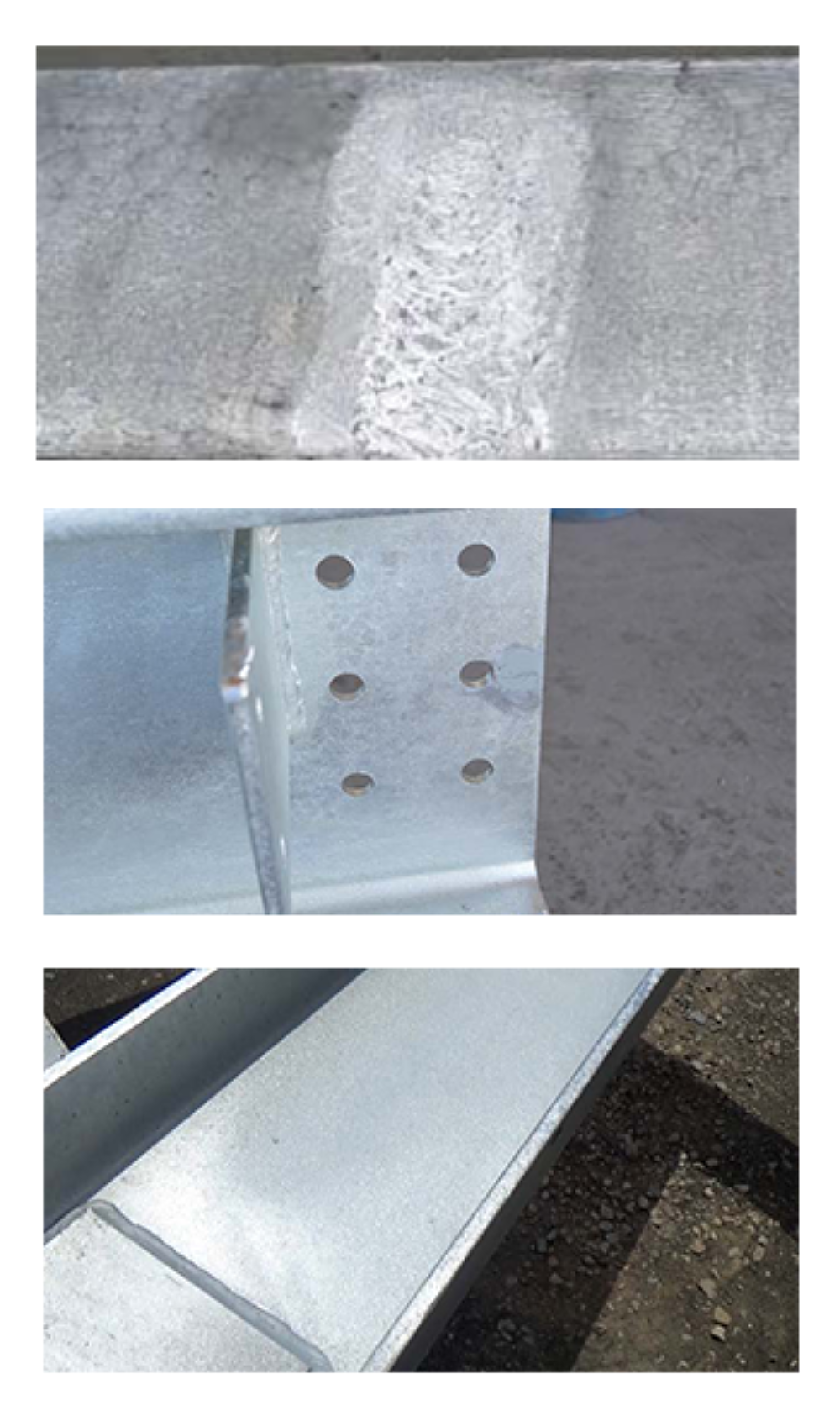 Wet Storage Stain
Galvanized AESS members should be stored in a way to minimize the occurrence of wet storage stain, known as an accumulation of white/gray powdery corrosion products on zinc coated surfaces when articles are closely packed, deprived of freely moving air, and exposed to moisture (Figure 14). Information on preventing and removing wet storage stain is available in the AGA publication Wet Storage Stain, available at galvanizeit.org/WSS.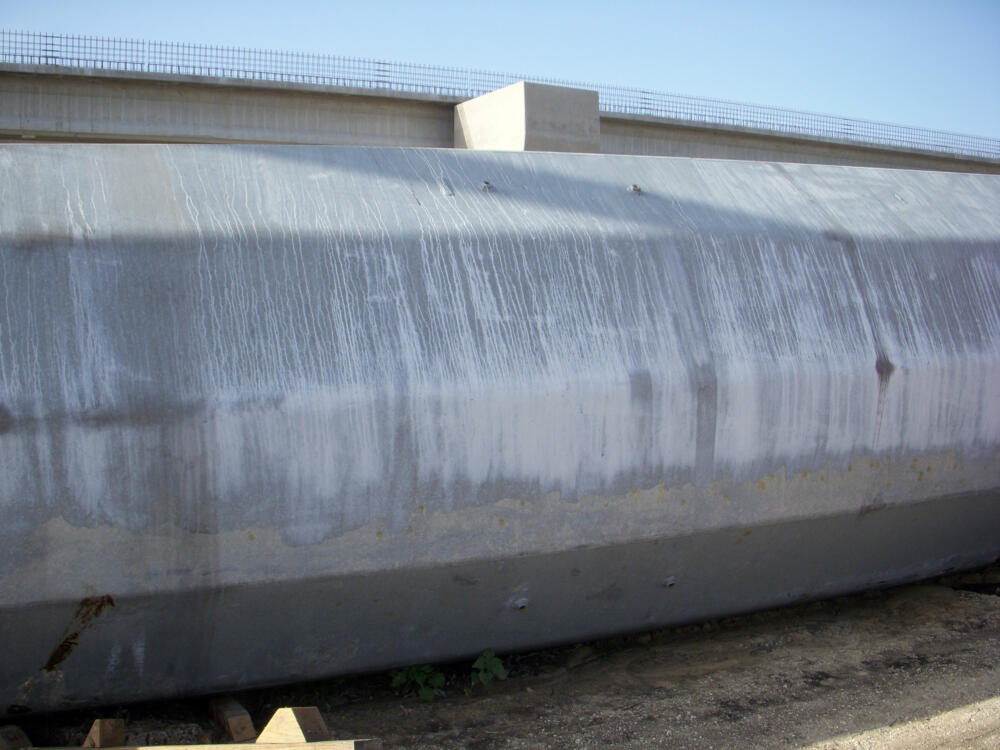 The presence of light or medium wet storage stain does not negatively affect the level of corrosion protection, but for aesthetic purposes and for interior AESS installed in a climate controlled area, it is possible to specify removal using commercially available cleaners and a stiff nylon bristle brush. Alternatively, light or medium wet storage stain can be left to weather upon installation in an outdoor environment where a uniform appearance can be expected within six months to two years (Figure 15).

Transportation, Handling, and Erection
Although the hot-dip galvanized coating is very resistant to damage, rough handling often results in cosmetic damage to the outermost, malleable zinc layer in the form of scratching or markings (Figure 16 & 17). Though these markings will weather out over time, their initial appearance can be minimized by specifying the use of soft or padded slings/chains in addition to padded lifting devices and rests.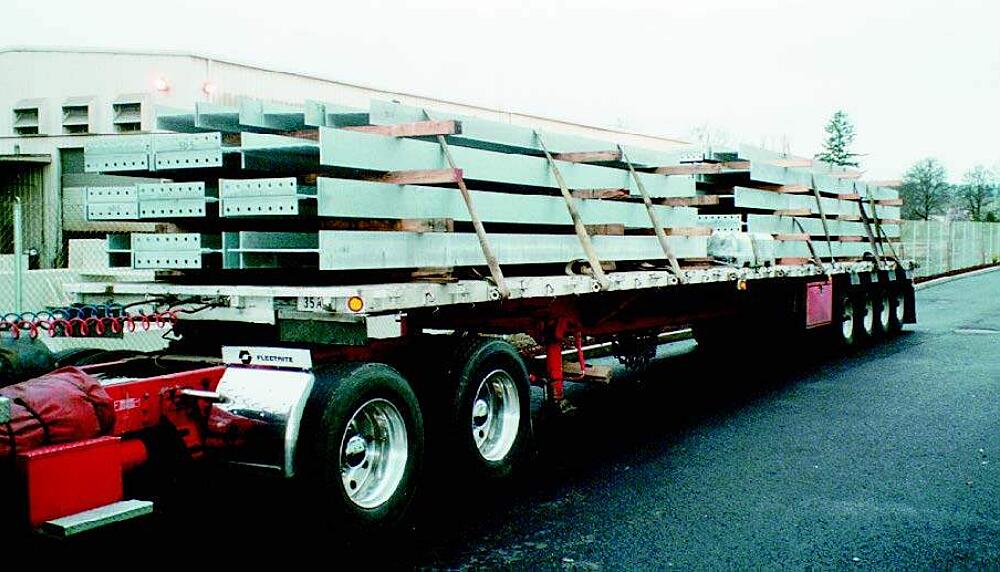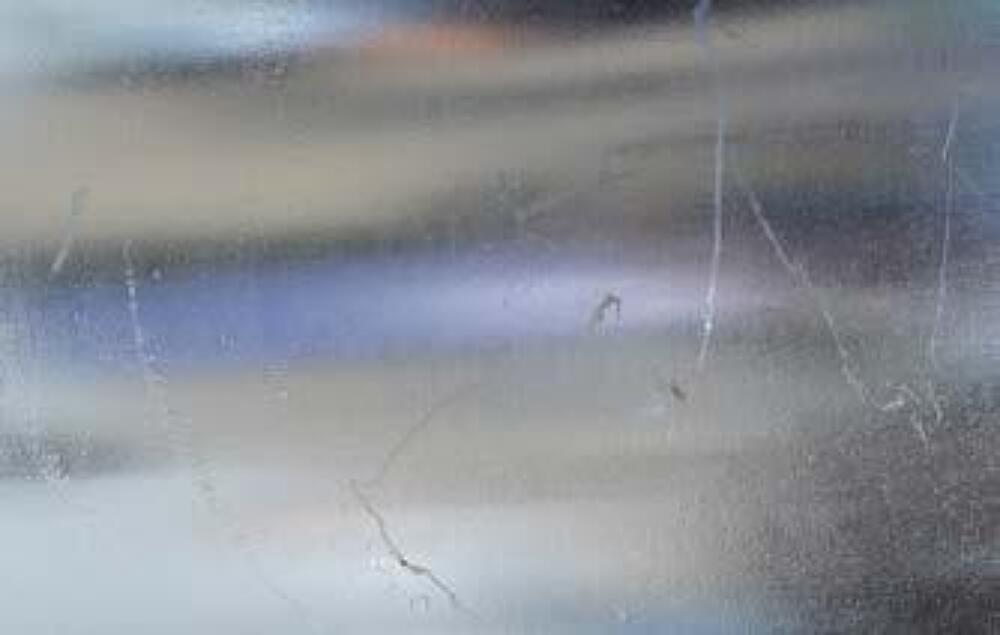 For bolted structural connections, regardless of joint type or tensioning requirements, the specification of washers underneath turning pieces avoids delamination or smearing of the hot-dip galvanized coating during tensioning (Figure 18).