Leadership in Energy & Environmental Design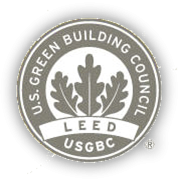 The US Green Building Council (USGBC) developed the LEED® rating system. Materials and products commonly used in construction of commercial and office buildings can provide credits to provide the overall building with a LEED® rating. LEED® awards credit for the 'greenness' of a product or the efficiency it provides to a building. In the past, LEED® was known to take a simplistic view of building products within the materials and resources credit area, focusing on individual criteria such as recycled content, energy consumption during use, and air quality impact over the useful life. However, the revamped LEED® v4 takes a more holistic approach to green building.

The intent of the LEED® program is to promote healthful, durable, affordable, and environmentally sound practices in building design and construction. LEED® v4 is quite different than its prevsious versions, taking a more innovative, comprehensive approach to ensure buildings promote human health and environmental sustainability. In order to achieve these benchmarks, the USGBC transitioned from a prescriptive checklist to a more definitive measure of environmental impact from start to finish. The goal is more transparency in materials, so specifiers can make the best choices.
LEED® v4 has a heavy focus on Building Product Disclosure and Optimization (BPDO) within the Materials + Resources credit category. The three main BPDO credits, which will be discussed later in this seminar are Environmental Product Declarations (EPDs) which detail the materials used in a building and their economic impact (such as an LCA); Sourcing of Raw Materials, which emphasizes responsibility throughout the supply chain; and Material Ingredients (also commonly called Health Product Declaration (HPD)), which identifies the chemicals in your product similar to an Safety Data Sheet (SDS).
LEED® v4 New Building Design + Construction (BD+C) Credits:
Integrative Process
Location + Transportation
Water Efficiency
Energy + Atmosphere
Materials + Resources
Indoor Environmental Quality
Innovation
Regional Priority