In the Atmosphere
Every power project is exposed to the atmosphere. The performance of atmospherically exposed hot-dip galvanized steel depends on five main factors: temperature, humidity, rainfall, sulfur dioxide (pollution) concentration in the air, and air salinity. None of these factors can be singled out as the main contributor to zinc corrosion, but they all play a role in determining the corrosion protection hot-dip galvanized (zinc) coatings can provide in certain atmospheric conditions. In power generation facilities, sometimes the source of generation impacts one or more of these factors creating a unique microenvironment.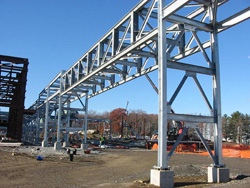 For several decades, independent and industry testing of samples in five environments (industrial, rural, suburban, tropical marine, and temperate marine) have yielded real-world performance data for hot-dip galvanized steel. Using this real-world corrosion data, statistical methods, and neural network technology, Dr. Gregory Zhang of Teck Metals Ltd. developed the Zinc Coating Life Predictor (ZCLP) to estimate the life of hot-dip galvanized coatings in atmospheric conditions. Using the ZCLP, you can input specific parameters for any environment and get an estimated time to first maintenance for the galvanized coating.
Time to First Maintenance
Because hot-dip galvanized steel is most commonly exposed to the atmosphere, the AGA developed the Time to First Maintenance chart to help predict HDG's performance in the atmosphere. The chart was developed by selecting five to six locations in each atmospheric category and plotting the predicted life to get an estimated time to first maintenance for each environment (industrial, suburban, etc.)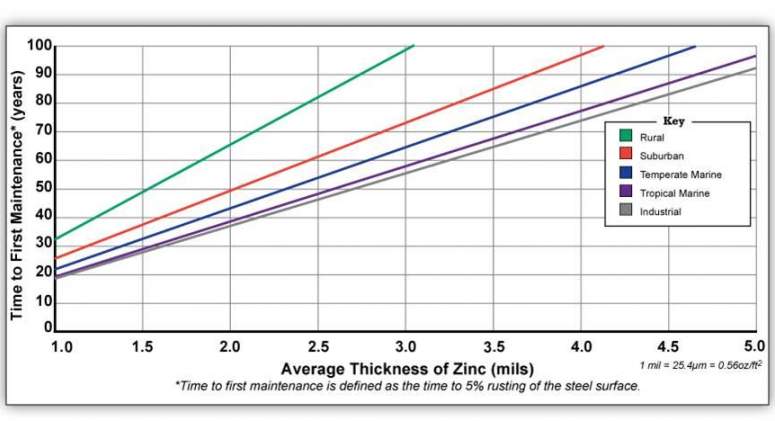 Time to first maintenance is defined as 5% rusting of the base steel surface, which means 95% of the coating is still intact, and an initial maintenance is recommended to extend the life of the structure. According to ASTM A 123, the governing specification for hot-dip galvanizing, steel ¼-inch thick or greater must have at least 3.9 mils of zinc on the surface, but more often than not, you will get greater than the minimum requirement. Therefore, using this chart, you can see hot-dip galvanized structural steel (>1/4-inch thick) provides 72-73 years of life to first maintenance even in the most corrosive atmosphere, industrial.
A conventional coal-powered power plant can cost as much as $780 million to build, according to Bechtel and General Electric Research, and has the potential to be in service for 90 years or more. Therefore, avoiding the monumental costs associated with partial or complete shutdown of a plant for maintenance is a key element when specifying a corrosion protection system. Shutting down any part of the plant for maintenance leads to wasted energy and inconsistent service to taxpayers and consumers.
Longevity Case Study
Johnson & Johnson Solar Panels, New Brunswick, NJ 2006

Johnson & Johnson desired a coating that would withstand the harsh New Brunswick winters with little future maintenance of the solar panel system erected on the roof of a multi-level parking garage. Powerlight Corp. has installed many solar panel systems, and thoroughly recognizes the benefits of galvanized steel because of the unmatchable track record in previous projects.
With Johnson & Johnson's desire for longevity and low maintenance and Powerlight Corp's past experience with the product, hot-dip galvanized steel was the logical choice. The hot-dip galvanized structural framing, tube steel supports, and brackets will be able to withstand the harsh elements of the climate as well as the rigors of vehicle emissions. The roof structure is highly visible from street level and blends nicely with the concrete substructure and surrounding environment.
With the alternative power market expanding steadily, this project will help propel hot-dip galvanizing as an important component in this growing market. The virtually Maintenance-free coating of hot-dip galvanizing will quietly but consistently protect the solar roof panel system so it can be enjoyed today and tomorrow alike.