Initial Savings
As the need for energy grows more and more each day, new facilities, transmission centers, and distribution lines must be developed and constructed faster than ever to keep up with demand. Contrary to what many specifiers believe, galvanized steel can provide cost-saving solutions during the initial construction of your energy project. Because galvanized elements have a quick turnaround and do not require time to cure, the energy facility, transmission structure, or distribution pole can be online quickly– saving time and money.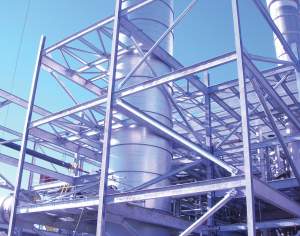 As the power sector, in particular, tends to run into more unexpected construction delays and emergency needs such as following a natural disaster, quick turnaround and availability are important cost factors. To that end, simple, uncomplicated steel structural designs take less time to develop and are less costly than other material options, such as concrete.
Fabricated and galvanized offsite, steel elements move quickly through production without interruption, because both fabrication and the galvanizing process are performed indoors independent of weather hindrances. The pieces are then loaded and delivered to the site ready for construction. Because steel beams and other elements are considerably lighter than heavy, unwieldy precast concrete elements, transportation, and onsite construction costs are significantly less as well. Once onsite, the steel pieces can quickly be put into place, because there is no curing time necessary.
Furthermore, in case of emergency (natural disasters, damaged or knocked over poles, etc.), it is feasible hot-dip galvanized steel could be galvanized and erected on the same day allowing construction to continue unhindered, keeping the facility and/or grid structure on schedule and moving closer to functionality.