2019 Abstracts
Tuesday, September 24
SGT Ken Weichert - SGTKEN.com
The Road to Resilience: Turn Stress into Strength and Obstacles into OpportunitiesTM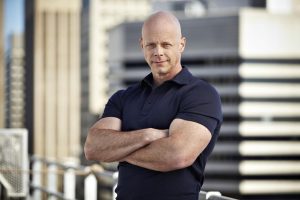 Led by Operation Iraqi Freedom veteran and Master Resilience and Fitness Trainer, Ken "SGT Ken" Weichert, you will receive powerful positive psychology skills that help you eliminate counter-productive thinking and focus on authentic happiness. Whether it′s due to a job loss, an illness or injury, or the death of a friend or family member, a person with resilience is able to rebound quickly and easily in the face of adversity. A person that lacks resilience will dwell on problems and often find unhealthy methods to deal with a difficult situation. Resilience will help you see past your obstacles and help you to become mentally tough. Through his stories and military training you will learn the steps to becoming a more resilient person and how you too can adapt, overcome and improvise!
Creator of countless tactical fitness and health programs for Army and Air National Guard service members and their families, his personal mission is to empower people with exceptional resilience training and life coaching strategies to turn stress into strength and obstacles into opportunities!
Objectives:
To learn how to challenge negative thoughts and promote positive thinking.
To learn assertive communication techniques and active constructive response.
To learn how to create a personal mission statement and implement goal-setting strategies.
Michael Rinehart and Joseph DiPietro
Valley Flood Preparation and Recovery
Many different conditions combined to make 2019 the year of the rising waters in Nebraska. Spring temperatures came early causing early snow melt along with two or three days of steady rainfall and the rivers could not handle the influx of water. Communication with customers, workers, and administration about conditions at the facility and the issues with the rising waters and the potential damage to the equipment and product. How Valmont handled all of the issues with the facility and the clean-up of the mess left by the flood will be the focal points of this presentation.
Melissa Lindsley, AGA Marketing Director
Appearance Video Series & 2020 AESS Guide
Most galvanizers groan or roll their eyes when the topic of HDG appearance is brought up, and give the standard "galvanizing is for corrosion protection" response. The reactions can be even more intense when discussing Architecturally Exposed Structural Steel (AESS). However, appearance is at the heart of many customer concerns. Therefore, providing guidance on the various types of HDG appearance and ways to design/fabricate steel to maximize appearance may alleviate some of these headaches and get everyone on the same page. Come hear what the AGA has in store on appearance & AESS for 2020!
Andrew Marchioni, Safety Coordinator/ISO Manager
What to do When the US Department of Homeland Security Shows up at Your Galvanizing Facility
The USDOHS has been using TRI and Hazardous Waste information to identify potential threat facilities. We hit their radar screen due to our hydrochloric acid use rates. What do you do/say when (not if) they come calling. This presentation will also cover how to handle paperwork requests with DOHS, EPA, and OSHA. This discussion will focus on educating galvanizers what brings DOHS into our facilities. I will discuss the appropriate lingo that DOHS will speak, what answers facility operators need to provide that prevents escalation through the DOHS vetting program. Real life scenarios that V&S has experienced will be detailed. In addition, I will detail how to handle paperwork requests associated OSHA/EPA visits.
Federico Sanvito, Sales & Marketing Manager, Gimeco
Improvements to the Hot-Dip Galvanizing Process by Adopting Cutting-Edge Production Control and Management Software
Modern hot-dip galvanizing plants are nowadays called to satisfy the more and more various and pressing requests that the market offers and, to be able to do it efficiently, they must provide stable and robust performance over time. This implies the need to use automation systems, perfectly connected together and with the company networks, in order to bridge the gap between the production planning and the actual production. The effectiveness and efficiency of these automation systems are strictly bound to the use of modern computerized systems able to monitor and manage in an integrated and efficient way the resources and the production processes of the company (MES - Manufacturing Execution System). The improvements that the hot dip galvanizing process can make by using process automation and production control and management software are countless and this presentation aims to illustrate some of them, also with reference to practical cases.
Wednesday, September 25
Sally Buck, Valmont Coatings
Inspections and Lessons Learned and the Sustainability Efforts in Galvanzing Plants
Over 30 years after the Hazard and Solid Waste Amendments to the Resource Conservation and Recovery Act a few minor adjustments to the regulation in 2016 leads to increased attention and inspection of waste generating facilities. What parts of the program works and is very successful and what lessons can we learn from the recent string of hazardous waste program inspections? Learn how to: revise programs to integrate the various program into one very effective document, explain that program to an inspector, format equipment log sheets to answer questions prior to the ask, and information to have ready for an inspector. Also take away how to prioritize environmental tasks in high production facilities. The concept of the three legged stool Environment/Safety/Quality as managed by the concept of lean manufacturing guides efficiencies in EHS tasks.
Basic outline
Identify the various inspections to expect in a Galvanzing plant (state, federal and local) Env and Safety
Recommended documents to create during the inspection
Documents the Inspectors typically like to see
Likely conditions that could trigger attention from Inspectors
Lessons learned from previous recent inspections (state, federal and local)
Strategies for compliance with the 2016 HW Generator Improvements rule now being enforced
Sustainable practices that can be used to justify required Waste Minimization program
Alana Hochstein, AGA Corrosion Engineer
Blast Media for Preparing HDG Surfaces for Duplex Systems
Inadequate preparation of a hot-dip galvanized (HDG) surface is the main cause for premature failure of any Duplex System (paint or powder coating over HDG). As the popularity of duplex systems increases, there is a need within the industry to evaluate successful techniques for sweep blasting hot-dip galvanized coatings to achieve good adhesion of industrial coating systems without damage or excessive removal of zinc. Current recommendations for blast media used during sweep blasting of galvanized surfaces (per SSPC SP 16, Brush-Off Blast Cleaning of Coated and Uncoated Galvanized Steel, Stainless Steels, and Non-Ferrous Metals) are not always effective at producing the surface roughness properties required by manufacturers of industrial or marine-grade coating systems. As a result, applicators have turned to other blast media options in the marketplace.
This presentation reviews the effects of blast media and sweep blasting techniques on the success of a Duplex System, as well as results from the AGA Blast Media Study evaluating the success of blast media used in the marketplace today which are currently outside industry recommendations.
Bernardo Duran, International Zinc Association (IZA)
NACE Publications – How to Increase Your Education and Become an Author
NACE publications cover a wide variety of topics and serve multiple audiences in the corrosion industry. This presentation discusses the differences between magazines, newsletters, books, and other content published by NACE. The presenter will also explain how to become an author and potential submission ideas. Lastly, learn how to navigate the structure of NACE committees.

Barry Dugan, Zinc Connections, LLC
The Morbid Side of Zinc
Zinc metal is the second largest cost to a galvanizing operation (labor is #1). Each day you are buried with questions about zinc usage, dross generation, and wasted zinc. Have you ever had that creepy feeling that zinc has left a lasting mark on your life? Is there life after zinc? Come hear Barry Dugan discuss how you may never lose your connection to zinc.
Eric Michaud, Corbec Inc.
Case Study: Build for a Hostile Environment and for the Future
Driven by sustainability and longevity objectives; the demand for major infrastructure with a life cycle greater than 125 years or intended for use in hostile environments has grown significantly in North America during the last years. Therefore, the galvanizing industry has seen a significant increase in zinc coating specifications requiring higher standards than those established in national standards used in the industry.
The case study presented here deals with an instance where a minimum of 125um of zinc coating was required on all elements of an ore conveyor. We will see how the customer and the galvanizer must work together and be flexible to achieve the expected results.
Thursday, September 26
Steve Tobias
Intro to TOSHA
The presentation will define the TOSHA Compliance inspection process and explain TOSHA's Consultative Service. This presentation will also outline the most cited standards within the metal coating, engraving, and allied services to manufacturers industry. Resources to help identify and correct workplace hazards will be provided.
John Hastings, NSBA Bridge Steel Specialist
National Steel Bridge Alliance (NSBA) Historical Bridge Project Cost
This presentation will address the cost associated with steel bridges. NSBA tracks material and FOB jobsite cost. We also recently completed a nation wide study of the cost of both concrete and steel bridges to determine the competitiveness of steel bridges.
Jason Pence, AZZ Galvanizing
Safety and Maintenance - Fork Trucks and Cranes
A review of OSHA requirements and safe operating practices related to forklift and crane operations as well as routine maintenance common for this equipment.
Ruwan Welagedara and Prabath Gunasekara, LTL Galvanizers (Pvt) Limited
Many Different Ways of Material Handling in Hot Dip Galvanizing and Reduction of "Material Losses" to Absolute Zero
A galvanizer has to accept all types of material coming for galvanizing, especially where there are no many galvanizers operating in different scales. So the galvanizer has to use or modify jigs and fixtures to match with the geometry of the incoming material. One of the major challenges in batch Hot Dip Galvanizing of different types of articles is the possibility of losing some articles, presumably fallen in to a pre-treatment tank or in to the galvanizing kettle. This may leads to customer complaints; re-work cost, loss of time, etc... And ultimately increase the operating cost of the galvanizer.
Here we are going to present about many different ways of handling material, meanwhile minimizing the Zn consumption, time and pre-treatment chemical wastage in order to struggle with the above challenge.
The loss of parts in pre-treatment chemical baths and Zn bath would be a nightmare to the galvanizer especially if it would be a "special part" for the customer. Here we have introduced a "safety belt" to reduce that to an absolute zero. The mechanism and documentation presented here elucidate the time and re work cost saving with this new improvement.