The Role of Zinc in Child Health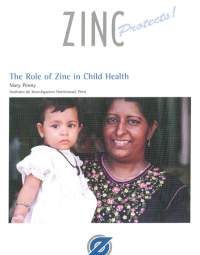 This document shows the great importance of zinc for the healthy growth of children. It describes zinc's many benefits and uses. The document also discusses the consequences of a zinc-deficient childhood.
Copies of this resource are available for purchase. Architects, engineers, and other specifiers in North America may request a single copy of any publication at no charge, unless otherwise indicated. Multiple copies require a $25.00 (US funds) minimum order, plus shipping and handling. Prepayment is required. (Member galvanizers are not eligible for complimentary printed copies and require a $75.00 minimum order.) Non-member galvanizers must contact the AGA directly at 720-361-4483.