2019 Survey Thank You

Thank you for taking the American Galvanizers Association's (AGA) 2019 Market Research survey.
Remember to share the survey with your colleagues. Every post sharing the URL www.galvanizeit.org/2019survey and using the hashtag #AGASurvey will result in an additional entry of your name in the monthly prize drawing.
Your responses will be aggregated with others to help us formulate the industry's marketing strategy for the next three years. In return for your time investment, you have been entered in a monthly drawing. A winner will be drawn each month from those who complete the survey during that month. All participants throughout the year will have the opportunity to win the Grand Prize, an Apple MacBook or cash equivalent.
Learn more about HDG with these resources:
Join thousands of other specifiers who utilize hot-dip galvanized steel in their projects. The first step is learning more about hot-dip galvanized steel and its benefits through the resources below.
Publication Library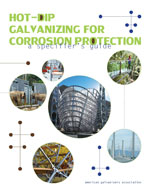 The AGA has more than 40 publications on the design, specification, performance, and markets of hot-dip galvanized steel. The Specifiers Guide details the various reasons specifiers choose hot-dip galvanized steel, while the Design Guide provides best design practices as well as information on mechanical properties of hot-dip galvanizing, types of materials suitable for hot-dip galvanizing, combining different materials and surfaces, welding procedures, venting and draining, and more. Other popular publications include the Performance of Hot-Dip Galvanized Steel Products, Hot-Dip Galvanizing for Sustainable Design, and Costs Less, Lasts Longer.
Continuing Education Seminars
Many specifiers have attended a popular Galvanize It! seminar to understand the aspects of hot-dip galvanizing while meeting continuing education requirements. All courses in the seminar series are approved for continuing education credits (CEU), learning units (LU), and/or professional development hours (PDH) in health, safety, and welfare (HSW) or sustainable design (SD). Learn more about the Galvanize It! seminar series and sign up for an in-person seminar, webinar, or take an online course today!
Life-Cycle Cost Calculator
Hot-dip galvanizing provides maintenance-free protection for decades, an inherent cost benefit . Too often specifiers only consider initial cost when selecting materials and products. Life-cycle cost (LCC) which accounts for initial cost as well as all future maintenance costs and the value of money over time provides the true cost of a structure throughout its life. The online LCC calculator allows you to compare the initial and life-cycle cost of more than 30 corrosion protection systems to hot-dip galvanizing. Customize the input to evaluate your next real project or just run a hypothetical analysis.
KnowledgeBase and Dr. Galv Resources
The Dr. Galv KnowledgeBase is the best place to find articles answering routine questions on the many technical aspects of galvanizing.
Newsletter
The AGA publishes a quarterly e-newsletter, Galvanizing Insights, to keep you abreast of trends, tips, and advancements in the hot-dip galvanizing industry. Catch up on the latest in the hot-dip galvanizing industry once a quarter by signing up today.
Locate a Galvanizer
Are you considering hot-dip galvanized steel for your next project? The AGA can connect you with a galvanizer in your area to discuss your project specifics, schedule a plant tour, and/or just to start building a relationship for future projects.